Theresa May on why Boris Johnson speech made her cross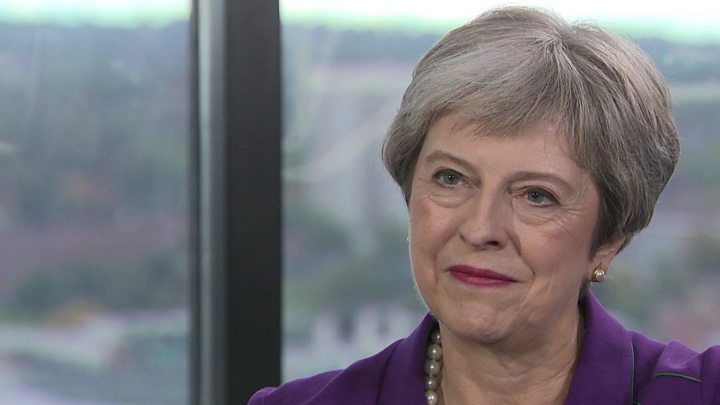 Theresa May has told the BBC she is "cross" with Boris Johnson after the former foreign secretary launched a fresh attack on her plan for Brexit.
The PM said Mr Johnson, who addressed an audience of more than 1,000 people at the Tory conference, could always be relied upon to put on a "good show".
But she said parts of his speech about Northern Ireland angered her.
"He wanted to tear up our guarantee to the people of Northern Ireland. Northern Ireland is part of the UK."
Mr Johnson, who quit the cabinet in July in protest at Brexit policy, was cheered by activists when he urged Mrs May to drop her plan for future co-operation with the EU.
In a speech in Birmingham, he argued her blueprint, called the Chequers plan, was "undemocratic" as it kept the UK within the "tractor beam" of Brussels and was not what people voted for.
Urging Mrs May to return to the vision she originally set out in her Lancaster House speech in early 2017, he warned "if we get it wrong we will be punished".
---
A flash of polite irritation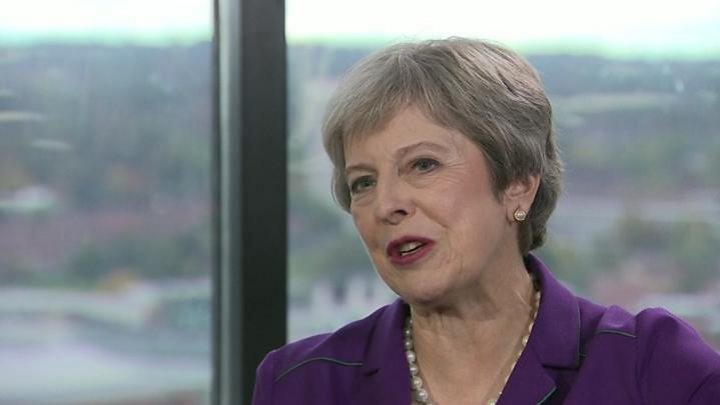 The BBC's political editor Laura Kuenssberg
The prime minister, who is publicly as controlled as they come, revealed a flash of polite irritation telling me that she is "cross" with the things Boris Johnson has said.
Trust me, the things that people in government have been saying about him privately are often far worse than that.
The view of some of Mr Johnson's former colleagues is that he is a charlatan, who never showed that he could do the work needed, to show the responsibility required, to make decisions that would affect the lives of the public.
There are numerous anecdotes of how the former foreign secretary would make promises he never kept, wouldn't properly focus on the documents, the detail, that came across his desk in one of the highest offices in the land.
However, in a moment of proper candour, another of his former colleagues who knows him well, told me that the truth is, "we're all a bit jealous".
---
But Mrs May told the BBC's political editor Laura Kuenssberg that she had not watched the speech and she was putting the national interest first in the negotiations.
Her plan, she said, was the only one that would minimise disruption to trade while also upholding the UK's territorial integrity and Northern Ireland's constitutional status within the UK.
Proposals put forward by the EU and others which did not do that were unacceptable, she said.
"There are one or two things that Boris said that I am cross about," she said.
"You know we, he and I are all members of the Conservative and Unionist Party. That's because we believe in the union of the United Kingdom.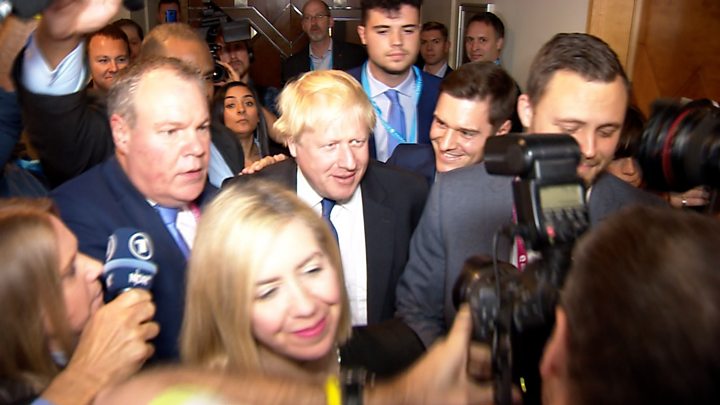 "Northern Ireland is part of that union. And we have a guarantee for the people of Northern Ireland and we are upholding that. Our Chequers plan does that it's the only plan on the table at the moment that does."
Pressed on whether she believed Mr Johnson, who in his speech urged his party to cut taxes and make the case for free markets, was undermining her authority, she replied:
"There's one thing we all know about Boris is that he'll put on a good show.
"But what we've been doing here at conference of course and I think what matters to people out there is what the government does and what we focus on in terms of their day to day lives and what really matters to them."
Mrs May, who will make her leader's speech to conference on Wednesday, has also been defending the government's post-Brexit immigration policy, details of which were unveiled earlier.
It will prioritise high-skilled workers and ensure EU nationals are treated the same as those from the rest of the world.
Low-skilled migration would fall when EU free movement access ends, she said, although a future trade deal with the EU could include a "mobility" agreement to enable businesses to bring qualified people into the country for short periods of time.
"I think people will feel a difference because they will know that for the first time in decades it is the UK government that is deciding who can come into the country," she said.
"We will be able to decide the basis on which people come to the UK," she said. "That hasn't been possible for many years for people coming from the EU. That will change."