Conservative conference: Emergency £240m to free up hospital beds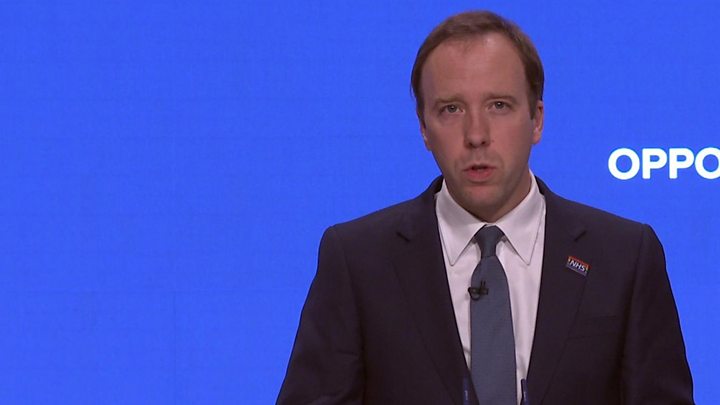 An emergency £240m will be pumped into social care in England to ease pressure on the NHS this winter by enabling more elderly people to be cared for at home.
The cash will help councils pay for measures like housing adaptations and care packages, Health Secretary Matt Hancock told the Tory conference.
Getting people back home will "free up hospital beds", Mr Hancock said.
Critics said the funding was "nowhere near enough". In January, one in five patients faced long delays for a bed.
The number of seriously ill patients facing delays for a bed reached record highs, with 1,000 waiting more than 12 hours, according to NHS England figures.
This was despite a mass cancellation of routine treatments designed to ease pressure.
Mr Hancock, who was given responsibility for health and social care in July, set out the additional funding on the third day of the Conservative Party conference in Birmingham.
The money, to be channelled through local authorities according to their relative adult social care needs, could buy 71,500 domestic care packages or 86,500 "reablement" packages, he suggested.
"We will use this money to get people who don't need to be in hospital, but do need care, back home, back into their communities, so we can free up those vital hospital beds.
"And help people who really need it get the hospital care they need."
Reacting to Mr Hancock's speech, shadow social care minister Barbara Keeley said "tinkering at the edges" was not going to solve "a severe crisis in social care caused by eight years of Tory austerity".
Ian Hudspeth, who chairs the Local Government Association's community wellbeing board, said short-term bailouts were not the answer.
Mr Hancock indicated the government would publish a paper on reforming social care later in the year.