Food waste crackdown 'to help serve up 250m meals'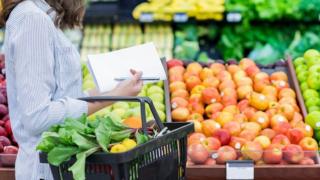 Up to 250 million extra meals could be supplied each year to the most needy in society by cracking down on unnecessary food waste, Michael Gove has said.
The environment secretary has announced a £15m trial tie-up with business and charities to redistribute food that is currently being disposed of.
He told the Tory conference current levels of food waste were a "moral, economic and environmental folly".
He also pledged action to improve food labelling and target "waste criminals".
Mr Gove, a key figure in the 2016 Leave campaign, also said the UK farming and fishing industries could be reinvigorated by what he hoped would turn out to be a "green Brexit".
The Conservative government had the potential to leave an enormous environmental legacy, he told activists in Birmingham, through "action that helps the planet, helps the poorest and remains true to our values".
Citing the party's history of championing "real progress and radical reform" in areas such as housing, education and workplace protection, he said it must now be prepared to take even more determined "green action" to tackle marine and air pollution, to protect biodiversity and to enhance animal welfare.
Promising to open several new fronts in tackling waste, he warned that 100,000 tonnes of nutritious and edible food which could be eaten was used instead for animal feed, anaerobic digestion or to generate energy.
A one year pilot scheme starting in 2019 will seek to ensure more of the surplus food cast aside by retailers and manufacturers, which accounts for nearly 30% of total food waste, is saved for human consumption.
The scheme, which seeks to build on the 43,000 tonnes of surplus food already redistributed for human use, will be supported by £15m in funding allocated to the department.
However, its continuation will depend on extra resources being made available in next year's Spending Review.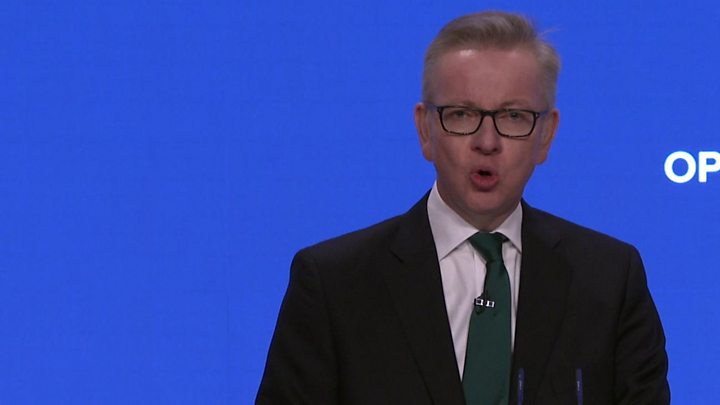 "Nobody wants to see good food go to waste," Mr Gove said. "It harms our environment, it's bad for business - and it's morally indefensible.
"Working with industries and charities, we should be able to get up to 250 million extra meals a year onto the tables and plates of the most deserving in society."
The anti-hunger charity Fare Share said that, if properly allocated, the move could make a "huge difference".
In his speech, Mr Gove also promised action to make recycling easier and tougher penalties for fly-tippers.
Unless the UK and other industrialised nations changed course, he said there would be more plastic in the world's oceans than fish by 2050.
Urging his party to stand up for its values, he said Labour had become a "toxic cocktail" of Marxist-Leninism and anti-Semitism and it was the Tories' mission to stop Jeremy Corbyn, who he described as a "one man museum of economic folly", from getting into Downing Street.