'One click plan' to speed up rail compensation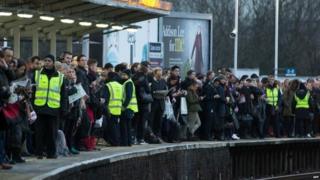 Plans to make it easier for people to claim compensation for rail delays and cancellations have been announced.
Transport Secretary Chris Grayling told the Conservative conference he wanted to see a "one click" system of online financial redress for passengers.
All new franchises will be required to speed up claims by ensuring people do not have to enter their personal details each time they submit a form.
Mr Grayling again apologised for the network's performance this year.
He told activists that the chaos caused by the botched introduction of a new timetable by a host of rail operators earlier this year "cannot and will not be allowed to happen again".
He announced a review of the much-criticised franchise system last month.
On compensation, ministers say the entire network should learn from the example of the C2C rail company, which operates trains between London and Essex.
Its website does not require passengers, once they have registered, to enter their details each time they make a claim, making the process easier and faster.
'Packed and creaking'
All newly awarded franchises will be required to do the same as part of their licence conditions while existing train operators will be encouraged to follow best practice and make greater use of technology to inform passengers when they are entitled to claim compensation, such as through mobile phone apps.
Passenger groups say too many people are not aware of their rights, with different conditions for different operators, and when they do try to claim money back, it is often unwieldy and time-consuming.
The system had to work better for customers, Mr Grayling told the event in Birmingham.
"It is clear that the system has greater challenges than a failed timetable introduction," he said. "Trains are packed, the network is creaking. Passengers experience too many things going wrong."
In a report published on Monday, the train operating companies said they had increased the ways people could claim compensation and were doing more to "proactively inform" passengers.
Mr Grayling also announced a program of investment in the UK's second-tier A roads, to tackle bottlenecks in York, east London, Barrow in Furness, Nottinghamshire and Thurrock.
He also said he expected to see the first fully driverless car on the UK's roads within three to four years.