Would younger voters back Tories for £10,000?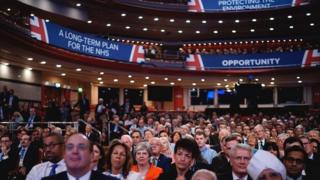 "Kids say 'I believe in Conservative things, but I can't vote Tory, they're evil'. How do we deal with that situation?"
Carly, a former teacher from Watford, knows what it's like to belong to a political tribe that dare not speak its name.
"Being a Conservative teacher, you learn to keep very quiet," she told a packed meeting at the party conference.
"Walking into a teachers' room is like walking into a socialist convention."
Her fellow sufferers - let's call them "Tories Anonymous" - nodded in sympathy and applauded. They knew what she was talking about.
"I am afraid of commenting on my opinions about things on social media. I even say I'm voting Labour," said a man from the West Midlands.
Another woman said she had tried to organise a talk by Health Secretary Matt Hancock - a man so down with the kids he even has his own app - only to be told by her contact that, actually, it might not be such a great idea.
"She said 'my entire university house is Conservative but I can't own up to it and I can't possibly have him come and talk to us'."
But don't all young people go through a rebellious left-wing phase before growing up and becoming a Tory, asked one man at the Resolution Foundation meeting.
No, he was told by the MPs on the panel, it was different this time.
"Not enough people feel they have a stake in this country," said former Education Secretary Justine Greening.
The dream of getting on to the property ladder - something that had sustained her when she was growing up in Rotherham - was now out of reach for many young people, she said.
And the Conservatives were never going to win another election if they did not take action to win back a "lost generation" of voters.
The key number was 47 - below that age the majority of people vote Labour, above it they vote Tory. All the stats suggested that figure was getting higher all the time, the meeting was told.
There were some things the Tories could do immediately to win back younger voters, said MP George Freeman, such as scrapping the 6% interest rate on student loans and building far more affordable homes.
But it was also about "tone". Take this party conference - it was too boring and corporate, he said. It should be more like a music festival.
"For a young community, being a culture-free zone in an age of culture politics is very toxic. We begin to look like the besuited bank managers of austerity, who have no vision of the spirit and the soul that makes life worth living.
"And if we become like that I think they will treat us like that."
The Conservatives had to speak out more against corporate greed and were in danger of looking like "the landlords' party, not the tenants' party", said Mr Freeman, a former policy adviser to Theresa May, who was now on a roll.
Why not let top universities charge more than £9,000 in tuition fees - but only if they offer zero-fee bursaries for "bright kids from low income backgrounds"?
Why not set up a work experience scheme for "blue-collar youngsters" to experience life in Africa, to be funded by the Department for International Development?
Then there was Brexit.
Journalist Rachel Sylvester's suggestion that the Tories get behind a second EU referendum had been earlier been met with boos and jeers from Tory members in the room.
Mr Freeman said he was no fan of Brexit, but his party should be sounding a bit more positive about it.
"Brexit could still be a moment of profound and inspiring renewal. But it's starting to look, after two years, like a street alley-cat fight between lawyers, bureaucrats and people hoping to wrestle the crown off the PM."
The "religious zealotry" of Conservative hard Brexiteers looks "completely weird to a generation under 45 and I fear will lead us to Corbyn having the keys to Brexit Britain", he said.
But perhaps the most radical idea was proposed by the organisers of the meeting, the Resolution Foundation think-tank.
Why not give all young people £10,000?
This "citizen's inheritance" would be made available to all under-30s in work from 2030, but it would be phased in from 2020, to be used for housing deposits, skills training, pensions savings or "entrepreneurship".
"That more than doubles the wealth of the majority of people aged 30," said Lord Willetts, the think-tank's chairman.
If Conservatives wanted to get more people on the property ladder "we need to provide some means of getting them started", he added.
His defence of the policy had been prompted by a complaint from the audience.
This sounds exactly like the sort of "moon-on-stick", unfunded promise that Jeremy Corbyn would come up with, the Tory party member had thundered.
He looked like he was still in his teens.