Reality Check: Labour's green energy plans
By Reality Check team
BBC News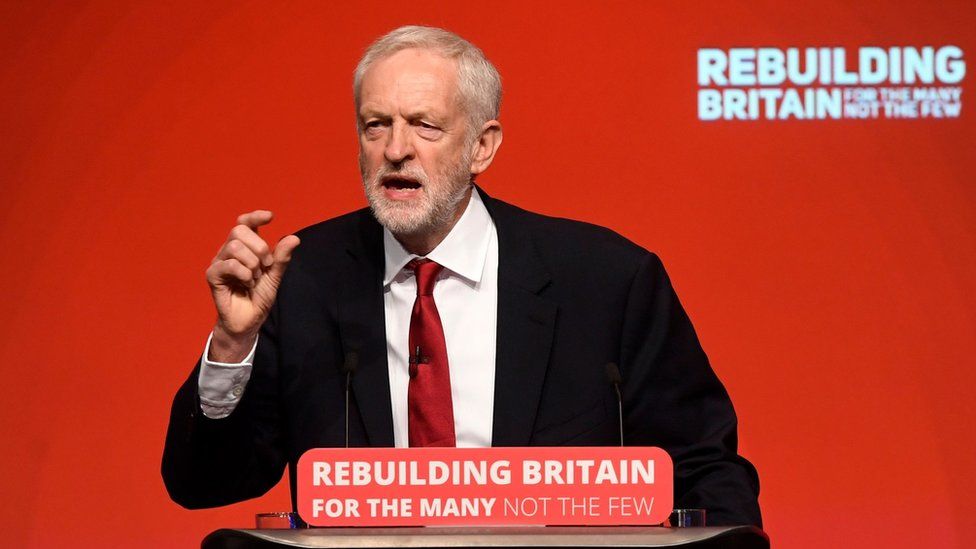 Labour leader Jeremy Corbyn announced in his conference speech on Wednesday: "Our programme of investment and transformation to achieve a 60% reduction in emissions by 2030 will create over 400,000 skilled jobs."
Parts of the plan had been laid out on Tuesday by shadow business and energy secretary Rebecca Long-Bailey.
How the number of jobs was calculated will be revealed when the full report comes out later in the year, but the interim report gave a breakdown of where they would come from:
120,000 jobs in offshore wind
60,000 jobs in onshore wind
70,000 jobs in solar power
160,000 jobs in making homes energy efficient
The government says it is "on track to comfortably exceed our ambition of delivering 30% of the UK's electricity from renewables in 2020-21".
The basis of Labour's plans is a pledge from the party's 2017 manifesto to deliver 60% of the UK's energy demand from zero carbon or renewable sources by 2030. The paper clarified that this meant electricity and heating, so not transport.
The first thing to say is that the plan to achieve this by 2030 assumes that there will be a Labour government in place early next year.
Capacity from solar power would be increased to 35,000MW, onshore wind to 30,000MW and offshore wind to 52,000MW. You can see from the chart above that those would be big increases, but Labour has given itself 12 years to achieve them.
Let's start with solar power. The plan is a bit confusing because it says that the UK's solar capacity would be almost tripled to 35,000MW by 2030 "with a combination of large and small-scale installations, installing solar PV [panels] on all viable UK roofs".
A viable roof is effectively any one that is structurally sound so that it can support the panels and facing any direction other than north, according to the industry.
The Solar Trade Association told BBC Reality Check that the 35,000MW capacity from rooftop solar panels by 2030 could be achieved relatively easily, but that it would not require all viable roofs to have panels.
You can see from the chart above that the rate at which new generating capacity was being installed, slowed after the government cut subsidies to households installing solar panels at the end of 2015.
But the industry says that a big resource available to be exploited is the roofs of commercial and industrial properties.
The plan for onshore wind involves having 6,000 more turbines by 2030. There are currently 7,638 onshore turbines either operational or under construction, so the number would be almost doubled.
Offshore wind plans would involve adding 7,500 turbines to the existing 2,296 either operational or under construction, so that would more than quadruple the number of offshore turbines.
The party plans to meet the demand for all the necessary "turbine components, high voltage cables and the large supply chain of goods required, from lifting gear to electric control equipment" through UK manufacturing.
The industry body Renewable UK says that currently 48% of spending on planning, building and running UK offshore wind projects goes to firms in the UK.
Examples include MHI Vestas Offshore Wind, which makes 80m-long blades on the Isle of Wight, Siemens Gamesa manufacturing blades and assembling offshore turbines in Hull and JDR Cables in Hartlepool, which supplies subsea cabling for offshore wind farms.
BBC science correspondent Pallab Ghosh points out: "It is unclear whether engineering companies are able to make parts for and construct turbines at the rate Mr Corbyn has promised."
The plans to make homes cheaper to heat and more energy efficient are the only part to which money has been allocated so far.
Labour has set aside £12.8bn in its National Transformation Fund to cover the insulation programme in its first term, which will pay for the work to be done free for the homes of lower income owner-occupiers and those in social housing as well as zero interest loans to help those who are able to pay for the work.
But as Pallab Ghosh points out: "Successive governments have failed to persuade enough people to insulate their homes, even if it is for free."
Related Internet Links
The BBC is not responsible for the content of external sites.