Jeremy Corbyn: More EU talks if MPs reject Brexit deal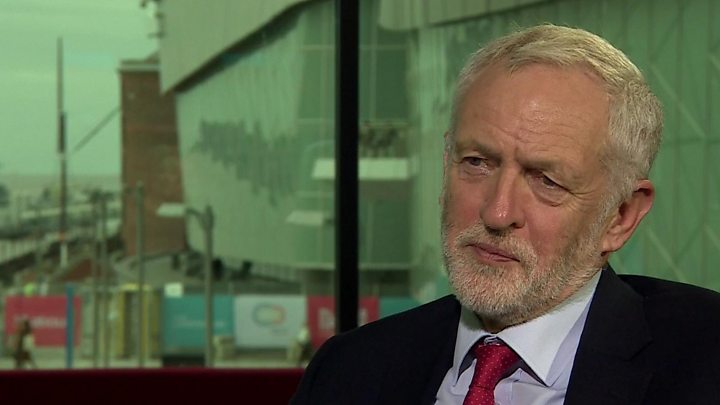 The UK government would have to return to the EU negotiating table if Parliament rejects its Brexit deal, Jeremy Corbyn has told the BBC.
Mr Corbyn said Labour would decide whether to back the deal based on its six tests - which the party says the government is currently nowhere near meeting.
He denied this made the possibility of no Brexit deal more likely.
He also refused to say how he would vote if there is another EU referendum.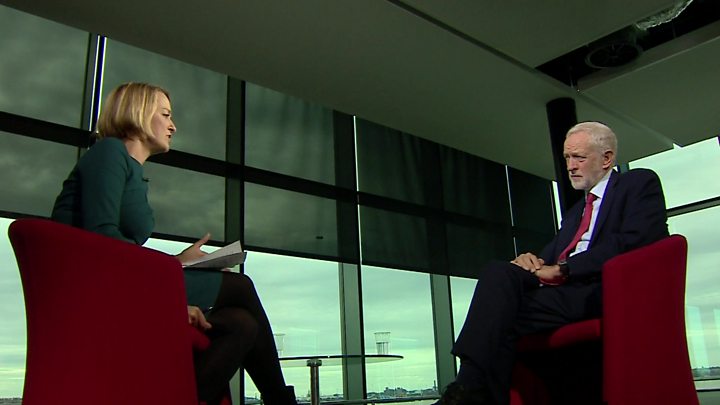 "It's a hypothetical question," he said.
Mr Corbyn was speaking to BBC political editor Laura Kuenssberg ahead of his speech at the Labour conference in Liverpool on Wednesday.
Also at the party conference, Labour delegates approved a motion that would keep all options - including a fresh referendum - on the table if MPs are deadlocked over Brexit.
The UK is due to leave the EU on 29 March 2019, and negotiations are still taking place between the two sides.
Parliament is set to vote on the outcome of the talks, with Prime Minister Theresa May saying this will be a choice between her deal and leaving without one.
Earlier, shadow Brexit secretary Sir Keir Starmer it looked "increasingly likely" Labour's tests would not be met and it would vote against the deal in Parliament.
Speaking to the BBC, Mr Corbyn said he did not know what the deal would look like, but if it was rejected by MPs, the government "will have to go back to the EU and say 'our parliament can't agree to this'".
He predicted the government would "collapse itself" and cause a general election.
Mr Corbyn denied he was pushing the UK closer to leaving without a deal - a scenario Labour has repeatedly warned about - saying: "What we're making more likely is that we will force a deal that protects jobs and living standards on both sides of the Channel."
He added: "What are we supposed to do - keep quiet and say nothing and leave it to the incompetence of this government?"
Speaking on a visit to New York, Prime Minister Theresa May told the BBC Labour was "playing politics" over the final UK-EU deal.
"The Labour Party are saying they will vote against any deal that I bring back from Europe, regardless of how good it is for the United Kingdom, and they would support any deal that Europe gave to us, regardless of how bad it was for the United Kingdom," she said.
"That's not working for the national interest - that's playing politics."
Another referendum?
Labour says it could call for another EU referendum if the Brexit deal is rejected and there is no general election - and it is not ruling out that one option could be to stay in the EU.
Theresa May has ruled out a public vote on the outcome of her Brexit negotiations - but it is not yet clear what will happen if Parliament votes it down.
Pro-EU campaigners say MPs will have "multiple opportunities" to legislate for a so-called "People's Vote", including by amending laws that have been promised to implement the UK's withdrawal.
Mr Corbyn denied leaving the door open to this scenario was letting down Leave voters, saying Labour was telling them "that we will deal with the situation as it comes up and we will understand, many of them, the reasons why they voted Leave".
The Labour leader cited de-industrialisation and anger at the loss of quality skilled jobs as factors behind the 2016 referendum result.
On the possibility of another referendum, he added: "We haven't said there's going to be anything yet.
"What we've said is all options must be considered if and when this government collapses or its negotiations collapse - the options are still there."