Reality Check: What is Labour's Brexit plan?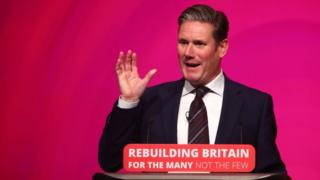 Shadow Brexit Secretary Sir Keir Starmer has confirmed the Labour Party is preparing to vote against whatever deal Theresa May brings back from negotiations with the European Union. What is Labour's Brexit policy, and what does it think should happen next?
First of all, Labour says the government's Brexit proposals are failing to meet the six tests that Labour set out last year.
Labour says these are the tests against which it will judge any final Brexit deal agreed by Theresa May's government, as part of the Article 50 negotiations on leaving the EU.
They are:
Does it ensure a strong and collaborative future relationship with the EU?
Does it deliver the "exact same benefits" as we currently have as members of the Single Market and Customs Union?
Does it ensure the fair management of migration in the interests of the economy and communities?
Does it defend rights and protections and prevent a race to the bottom?
Does it protect national security and our capacity to tackle cross-border crime?
Does it deliver for all regions and nations of the UK?
Labour has now published a report, which says all six of the tests are "on course to be failed".
"Let me be very clear - right here, right now," Sir Keir told the BBC. "If Theresa May brings back a deal that fails our tests - and that looks increasingly likely - Labour will vote against it. No ifs, no buts."
But there are buts.
When you look at the tests it is hardly surprising that they are on course to be failed, because of the way Labour set them out in the first place, as a way to judge the final Brexit deal.
What is being negotiated between the UK and the EU now is the withdrawal agreement - the terms of divorce, rather than the precise detail of the future relationship.
So it's not the final deal, and that makes some of the tests rather hard to assess fully at this stage.
Take test number one: does it ensure a strong and collaborative future relationship with the EU? No-one can ensure that at the moment, and we probably won't know for sure until long after we've left.
If a deal on a withdrawal agreement is done, it will be accompanied by a non-binding political declaration, which will presumably gush enthusiastically about a strong partnership in the future.
Both sides want a strong partnership; they will remain neighbours. But the details will have to be negotiated later.
A political declaration would set the tone and give some detail, but it could still lead to a blind Brexit: in other words, leaving without knowing our final destination.
Take test number two: does a deal give the UK the "exact same benefits" as membership of the single market and the customs union?
Well there's only really one way to achieve the "exact same benefits" and that's staying in the single market and the customs union, which is not official Labour policy. Labour says it wants to stay in "a" customs union, and stay as close to the single market as possible.
That is not the same as membership, so you can argue that even current Labour policy would fail its own test.
Coping with divisions
Labour is keen to emphasise that the six tests are based on promises and commitments the government made about what it would achieve in Brexit negotiations.
So this process was certainly a way of holding the government to account. But the tests were also broad enough to cope with divisions within the Labour party about the best way forward.
Now, though, the six tests have led to a decisive moment - barring unexpected developments, Labour will vote against a Brexit deal, increasing the chances that it will get rejected.
Sir Keir says that's because the government has "no credible plan" for Brexit.
But does the Labour party have one?
Sir Keir confirmed that Labour wanted a general election if the government was defeated in a "meaningful vote" on Brexit, although Jeremy Corbyn later said he would also try to send the government back to Brussels to negotiate again.
In other words, very little in Labour's Brexit strategy appears to be set in stone.
The trouble with the idea of calling for another election is that it's not in Labour's gift. If Prime Minister Theresa May decided to call for an election, under the Fixed-term Parliaments Act two-thirds of MPs would have to vote in favour (or go through a no-confidence procedure).
And even if a snap election were to take place, it's not clear what would be in a Labour manifesto. Would it include explicit support for another referendum? Would it openly support staying in the single market, even on an interim basis?
What we do know is that under the terms of the EU Withdrawal Act, the government would have 21 days to tell Parliament what it intended to do next if MPs rejected a Brexit deal in a "meaningful vote". Debates would have to take place in the House of Commons and the House of Lords within seven days.
But what would be debated?
These are obviously uncharted waters, and it may be up to the Speaker to decide whether any motions to be considered in parliament at that time could be amended, to allow, for example, for MPs to call for another referendum.
The government's thinking on the Speaker's role is set out in this Written Ministerial Statement.
Pushing for another referendum may well become Labour's main strategy, if it is unable to force an election.
In his speech to conference, Sir Keir said the party had to be able to put forward alternatives to leaving the EU with no deal, including - crucially - campaigning for a public vote.
When the shadow Brexit secretary emphasised that nobody was ruling out Remain as an option in such a vote (a remark that was not in the text of the speech distributed to journalists) he received a standing ovation. But not everyone in the party was cheering.
Groups like Labour Leave hold a very different view, arguing that "throwing around the possibility of a second referendum is devastating to the party's brand".
And even within the shadow cabinet there are differences of opinion about the best Brexit strategy to pursue.
Leaving the European Union involves big decisions about the way the country is run, bigger than this generation of politicians has faced before. So it is not surprising that the arguments within both Labour and the Conservatives go well beyond traditional party loyalties.
But time is running very short for those decisions to be made.
What do you want BBC Reality Check to investigate? Get in touch