Labour could scrap Universal Credit - John McDonnell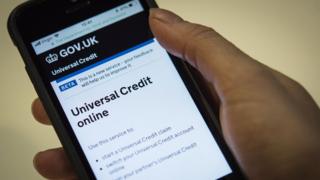 A Labour government could scrap - rather than just reform - Universal Credit, shadow chancellor John McDonnell has said.
Labour was consulting benefit claimants and job centre staff as part of a review of welfare policy, he said.
And the "message we are getting back," he told a fringe meeting at Labour's conference, was the controversial new benefit had to go.
Shadow work and pensions secretary Margaret Greenwood heads the review.
She appeared alongside Mark Serwotka, general secretary of the PCS union, which represents civil servants in the department for work and pensions, at the event in Liverpool.
Several job centre workers spoke out about the hardship and stress being caused to claimants by the roll-out of Universal Credit, which is meant to roll six benefits into one.
Their pleas were heard by Mr McDonnell, who made an unscheduled appearance at the meeting, to stress that he valued the views of workers on the frontline.
He said these people - and the claimants themselves - were the best people to design a new welfare system.
He did not want to pre-judge the consultation, he added, but it was clear that reform of Universal Credit might not be enough.
In her party conference speech on Monday, Ms Greenwood vowed to halt the roll-out of the new benefit to "fix its many flaws" and prevent further hardship.
She also vowed to end the "hostile environment" she said had been created for disabled people by the government, if Labour wins power.
Labour would seek to develop a welfare system based on "respect rather than distrust and stigma", she told delegates.
She also reiterated a Labour government would scrap the "heartless" sanctions regime, which can result in claimants being docked cash if they fail to meet certain conditions.