Len McCluskey rounds on Chuka Umunna and Labour 'plotters'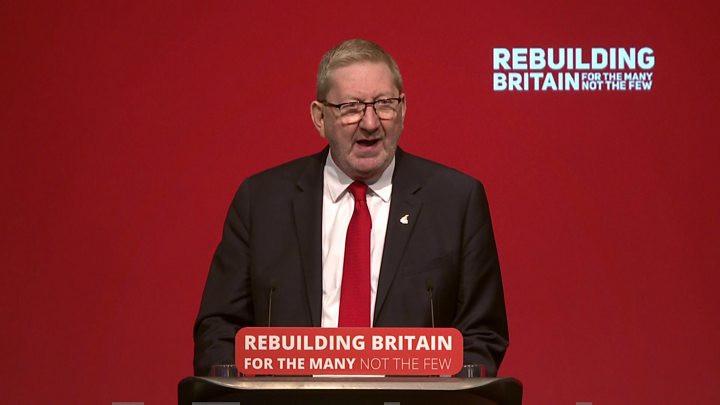 Unite leader Len McCluskey has received a standing ovation at Labour's conference for a fiery speech attacking MP Chuka Umunna and other "plotters".
He urged critics of Jeremy Corbyn to ignore calls for the formation of a "breakaway" centre ground party and get behind the leader.
Mr Umunna told BBC News he had "never been to a country club".
And he said Mr McCluskey should "stop targeting me" and argue for a "People's Vote" on Brexit.
The two men are at odds over the issue of another EU referendum, with Mr McCluskey saying that if there is one, the option of staying in the EU should not be on the ballot paper.
Mr Umunna, a leading member of the cross-party People's Vote campaign for a referendum on the final Brexit deal, which staged a march in Liverpool on Sunday, wants the option of staying in the EU to be put before voters.
He claimed most Labour Party members and members of Mr McCluskey's union wanted the option of staying in the EU.
In his conference speech, Mr McCluskey said: "If the centre ground is fighting for a better deal for working people and protecting our communities, look no further. It's right here in the Labour Party.
"So Chuka, drop the country club plotting, listen to working people the length and breadth of this country.
"Get behind the party that made you, and join the rest of this movement in fighting to get rid of this rotten government, to give our country the fresh start it needs and make Jeremy Corbyn the people's prime minister."
Mr Umunna has previously denied speculation he and other self-styled moderates are in talks about a new party.
But he has also claimed they are being forced out the party by supporters of Mr Corbyn - something denied by Mr Corbyn.
Mr Umunna told BBC News: "I stand by what I have said on bullying and racism in the Labour Party - not least because my own family have been victims of racism - and if Len McCluskey doesn't like that so be it."
Mr McCluskey - a key supporter of Mr Corbyn whose union is Labour's biggest financial backer - also took a swipe at Labour MP Dame Margaret Hodge.
He did not name her but referred to an incident in which she accused Mr Corbyn of being a racist, at the height of the anti-Semitism row that engulfed the party over the summer.
"Anyone screaming 'you are a racist' at Jeremy Corbyn has lost any sense of moral proportion and every shred of decency as well," he said to cheers from the Labour faithful.
Labour MP Clive Lewis also urged Mr Umunna to get behind the party leadership.
"I don't know whether the press reports that Chuka has been in conversations with the Liberal Democrats and others about forming a new centrist party are true," he told BBC News.
But, he added, he would advise Mr Umunna, to "get behind the leadership" and the party's policies "and help us work towards a Labour government".