Labour conference: Deselection row exposes tensions on the left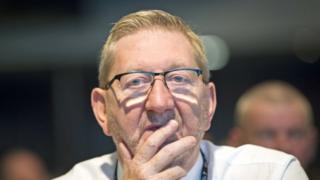 So what was Sunday's row over MP deselections at the Labour Party conference really all about?
First, it speaks to the increasing tensions within the party's left wing on how best to solidify the changes Jeremy Corbyn has introduced.
The left wing group Momentum wanted to see "open selections" where sitting MPs - many of whom didn't vote for Mr Corbyn as their leader - could be challenged between elections.
Until now, this could only happen if 50% of local party branches agree.
But although most unions are under left wing leadership they wanted to ensure they had a say in the process.
So behind closed doors at Labour's National Executive Committee (NEC) last night, a compromise was agreed.
It will be easier to deselect MPs. Indeed, the Unite leader Len McCluskey had to emphasise just how easy it would be, in order to assuage angry delegates.
However, a third of union or local party branches will have to agree to pull the trigger on the starting gun for any contest. It won't be automatic.
But what upset many left wing delegates was what they saw as an old fashioned stitch-up worthy of the Blair era.
They were given a straight choice between accepting or rejecting the NEC compromise - and no opportunity to vote for open selections.
Rising frictions
That's why they very nearly threw out the whole conference agenda in protest.
Which brings us to the second point: the row tells us that there are now far more delegates on the left of the party than in previous years, even after Jeremy Corbyn became leader.
This is underlined by the fact that while the Momentum leadership is now backing the deselection compromise as a step forward, some of their own supporters see this as a sell out.
Nonetheless, Momentum will come together again to harry for further change in the years ahead.
And in doing so, the friction between the political and industrial wings of this new-look Labour is likely to increase.