Brexit: Pressure builds on Labour leadership for new referendum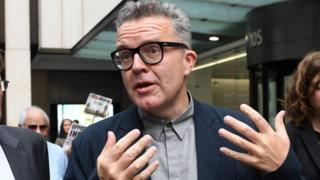 Two significant shifts have happened on the eve of Labour conference… and they both involve the party's deputy leader.
So far the party's deputy Tom Watson has stuck to the official line that a new referendum shouldn't be "off the table" - but that a general election is preferable.
While not technically departing from that formulation, he is sounding far warmer to the idea of a new referendum now that a YouGov poll of Labour party members - commissioned by the People's Vote campaign - has suggested that 86% would back one.
He told the Observer newspaper that while he would prefer Brexit to be debated in an election soon, the members' views must be respected.
"Jeremy and I were elected in 2015 to give the Labour party back to its members," he said.
"So if the people's party decide they want the people to have a final say on the deal, we have to respect the view of our members and we will go out and argue for it. That is what happens when you return the party to the members."
Mr Watson also suggested that if there were an early election then there would be pressure to make a referendum a manifesto commitment.
His views are important because - like Jeremy Corbyn - he has a mandate from the membership.
Second deputy leader
But the significance of another development should not be understated.
At Saturday night's meeting, Labour's ruling National Executive Committee has decided to recommend the creation of an additional deputy leadership post.
Mr Watson supported the idea of being joined in the leadership team by a female deputy, as did many of the trade union members of the NEC.
Jeremy Corbyn, as I understand it, wasn't in the meeting when the decision was taken but was at a party rally.
But the timing of the election of the new deputy could be highly significant.
If the full conference backs the creation of the new post, the NEC will draw up the timetable for the election.
And if it is sooner rather than later, that raises the prospect of a candidate standing on a platform of a new EU referendum.
If they get that mandate, the pressure on the existing leadership to change position could reach boiling point.