Anti-Semitism row: How has it affected Labour's support?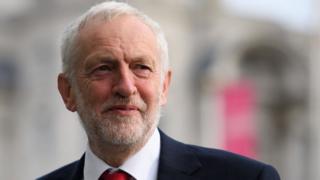 Accusations of anti-Semitism have led to widespread criticism of Labour in recent months.
Some supporters have warned it could lose out at future elections unless the relationship is repaired.
At this week's party conference, Labour leader Jeremy Corbyn told delegates he wanted the party and the Jewish community to "work together and draw a line" under the anti-Semitism row.
Indeed, relations have been strained for some time, with an inquiry into anti-Semitism in the party launched in 2016.
Last month Labour adopted the International Holocaust Remembrance Alliance's definition of anti-Semitism, although critics said the addition of a "caveat" undermined the international definition.
Now, a study of results at the 2017 general election suggests some damage may already have been done before the row intensified this summer.
It appears Labour may have underperformed in the constituencies with the most Jewish people.
Across the UK, there are five constituencies where, according to the 2011 Census (the most recent), more than 10% of the population identify as Jewish.
Four of them are in or just outside north London - Finchley and Golders Green, Hendon, Hertsmere, and Hackney North and Stoke Newington, where the local MP is shadow home secretary Diane Abbott. The fifth is Bury South, just outside Manchester.
In these seats, Labour's share of the vote at the 2017 general election increased by seven points when compared with the 2015 election.
However, this was nearly three points below the 9.8 point overall increase the party saw across the country.
This underperformance appears to be greater still if we look at how constituencies voted in the 2016 EU referendum.
In most cases, the higher the Remain vote was, the better Labour did in the election that followed.
Once we take this into account, Labour's share of the vote in the constituencies with the most Jewish voters appears to be about 4.5 points below what might have been expected.
In two constituencies, Finchley and Golders Green, and Hendon, this is greater than the margin by which it was beaten.
Of course, we cannot be certain that the party's apparent difficulties in these seats was the result of its failure to win the support of Jewish voters.
Labour might have had difficulties winning over the many other voters in these areas. Rival candidates may have fought a particularly good campaign.
But it would be quite a coincidence if it had these problems in every seat with a large Jewish population.
It is a problem that continued at local elections earlier this year, when the party failed to win Barnet (which incorporates Finchley and Golders Green), despite performing strongly elsewhere in the capital.
Its failure prompted a senior Labour politician to say he "suspects" the anti-Semitism row was to blame.
The Muslim vote
Despite these problems, Labour has found greater success with a different group of voters.
Jeremy Corbyn has long campaigned against Islamophobia and his staunch opposition to the Iraq War is well documented.
So, we might ask whether the Labour leader's record on such issues has enhanced support among Muslim voters.
Certainly, the relationship was strained under Tony Blair, following his decision to join the US-led invasions of Afghanistan in 2001 and Iraq in 2003. The party lost ground heavily in 2005 in constituencies with large Muslim communities.
Although much of that ground had been recovered by the 2015 general election, Labour did especially well in areas with large Muslim populations in 2017.
There are 78 constituencies where more than 10% of people identify as Muslim, according to the 2011 Census.
In these seats, Labour's vote increased by an average of 11.8 points - a couple of points better than its performance across the country as a whole.
However, these were also seats where support for Remain was higher than in the UK overall - by about five points on average.
But even when we take this into account, Labour's vote increased in these areas by just under a point more than we would otherwise have expected.
The difference this will have made to Labour's election performance is limited by the reality that most constituencies with a relatively large Muslim population are already safe Labour seats.
Such a small advantage will have simply bolstered the party's already strong position locally.
At most, there are a couple of seats, Keighley and Kensington, where Labour won only very narrowly and where any additional support from Muslims in these areas could conceivably have been decisive.
However, in neither case can we say that this is what happened.
About this piece
This analysis piece is based on an extract of The British General Election of 2017 by Philip Cowley and Dennis Kavanagh.
It was written for the BBC from experts working for an outside organisation.
Stephen Fisher is associate professor in political sociology and fellow of Trinity College at the University of Oxford. Rob Ford is professor of political science at the University of Manchester. Sir John Curtice is professor of politics at Strathclyde University, senior fellow at NatCen Social Research and The UK in a Changing Europe. He is also chief commentator at WhatUKthinks.org. Patrick English is a postdoctoral researcher at the University of Sheffield. Estimates of the Remain vote in each constituency were provided by Prof Chris Hanretty.
Edited by Duncan Walker