Reality Check: Holyhead's Brexit dilemma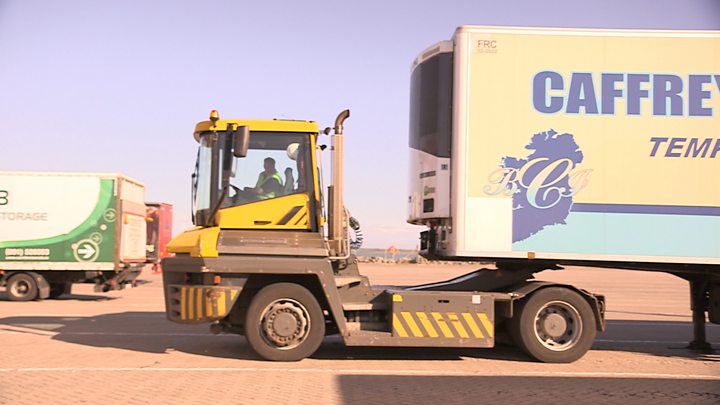 The locals call it the Holyhead hum: it's the sound of refrigeration units attached to lorry trailers waiting, 24 hours a day, seven days a week, for the next ferry bound for Dublin.
This small town on Anglesey lies at the heart of one of the poorest areas in the UK. But it is also the second busiest roll-on roll-off ferry port in the country, a vital link in a seamless supply chain for businesses across the UK and Ireland.
Brexit, for which Anglesey narrowly voted in the 2016 referendum, could change everything.
Why? Because at the moment this is the quickest route across the Irish Sea - the sailing time from Dublin to Holyhead is just over three hours.
"At night-time," says Ian Davies, trade director for Stena Line, which runs Holyhead Port, "we have 400 to 500 articulated lorries coming off two ferries within 25 minutes of each other."
If you put those lorries back-to-back, they would form a queue three miles (4.8km) long.
"We've got to keep moving," Mr Davies says. "We don't have the standing room to put five kilometres of freight."
In other words, any customs or regulatory checks, which could cause delays after Brexit, would be difficult to swallow.
"It seems likely that there will be some extra checks," says Andrew Potter, a logistics expert at Cardiff Business School, "and planning is taking place. But without clarity about what will happen, it's difficult to know how the port will reorganise itself."
The Irish connection is even more complicated because roughly a third of the freight arriving in Holyhead from Dublin originates in Northern Ireland.
That's partly because sailing times from Belfast to Liverpool are more like eight hours. It means a lot of freight from the North crosses the open Irish border by road, and still arrives in Britain more quickly.
Take chicken, for example.
Producers in Northern Ireland transport their meat to Dublin, and send it via Holyhead to big warehouses in the Midlands for distribution around the country.
Some of that chicken even gets sent back to supermarkets in Ireland and Northern Ireland - a reminder that the UK and Ireland really do operate at the moment as one economic space. And everyone in the supply chain, including consumers, benefits.
"A lot of perishable goods go through here," says Dylan Williams, from the Isle of Anglesey County Council, "so any delays will have a big impact. And this port is a critical component of the local community as well.
"When you look at all the potential implications and scenarios (of Brexit)," he sighs, "they are simply too big to get your head around and put a proper plan in place."
About 80 miles from Holyhead, just north of Wrexham, Platts is a family firm that makes specialist animal bedding out of sawdust.
Ireland is its only export market and its lorries pass through Holyhead several times a week.
"Two years ago we were over in India looking at exporting over there," says Caroline Thedens, Platts' managing director.
"But Ireland is a lot closer for us and that's part of our growth strategy over the next few years."
For now, though, the introduction of new technology in its factory, aimed at boosting its exports to Ireland, has been put on hold.
"With Brexit looming that is the uncertainty," she says, "and we may have to change our focus and re-evaluate what we do. Hopefully they can broker a good deal for all parties concerned."
The words Brexit and uncertainty never seem too far apart in places like Holyhead, but there's also discussion of solutions.
Could some checks be done on board ferries, for example, as they cross the Irish Sea? Or at factories before they arrive at the port?
Mr Davies hopes the challenge ahead will not be insurmountable.
"Whereas we have short-term concerns about the clarity of Brexit," he says, "long term we still see good growth. But free trade is the key element."
Holyhead certainly needs to maintain its competitive advantage. Some companies are increasing capacity on alternative trade routes that avoid the UK altogether, sending freight direct from Dublin to ports like Antwerp and Rotterdam.
"You will see some traffic transfer across," says Mr Potter. "The sailing times are still very long, but there will be no border checks if you can avoid going through the UK in the future."
"If Holyhead and the UK is bypassed and there is less economic activity," adds Mr Williams, "then the long-term future of a facility like this is very much at risk."
So two big Brexit issues coincide on the Welsh coast: seamless trade across the Irish border, and seamless trade through UK ports.
Holyhead is relying on both of them remaining as open as they are now. It needs a Brexit outcome that secures that.
What do you want BBC Reality Check to investigate? Get in touch