John McDonnell: Corbyn's son was appointed on merit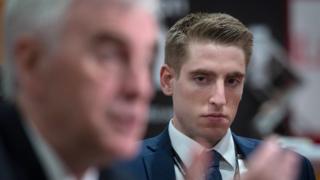 Shadow chancellor John McDonnell has defended employing Jeremy Corbyn's son as his political adviser.
Mr McDonnell said Seb Corbyn had worked for him since he was a backbencher, was "appointed on merit" and had received abuse "just because of his surname".
He made the remarks in a question and answer session on the Mumsnet website.
"I do not believe that people's families should be brought into political debate in this way," he added.
Mr McDonnell was responding to a Mumsnet user who raised the appointment after saying that "opportunities should be based on what you know, not who you (or your parents) know".
He said he didn't comment on staff appointments, adding: "But in this instance let me make it clear that Seb Corbyn was appointed to my parliamentary office when I was a backbencher and has worked for me for several years and prior to me becoming shadow chancellor.
"He was appointed on merit and I regret the level of abuse he's received just because of his surname."
Jeremy Corbyn, the Labour leader, and Mr McDonnell are long-term political allies.
In response to another question, Mr McDonnell - who has previously called for Tory MPs to be "challenged" and to face "direct action" when they are out in public - condemned a recent protest at the home of Conservative MP Jacob Rees-Mogg.
Last week protesters from a group called Class War shouted at Mr Rees-Mogg and his children outside his Westminster home.
"It was appalling," Mr McDonnell said.
"What I have said in the past is that MPs of whatever persuasion should be confronted by people if their actions in parliament are appalling.
"Protest and direct action have been part of our political life since time immemorial. Nevertheless, that protest and direct action must be peaceful."