Labour criticised over rape claim inquiry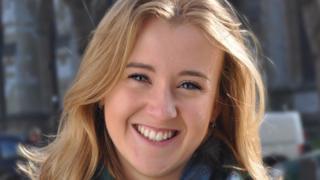 Labour has been accused of "dragging its feet" over an investigation into the way it handled a rape allegation by an activist.
Last year Bex Bailey waived her anonymity to say she was discouraged from reporting the 2011 attack, and called for changes to the way such cases are handled.
She has now told BBC Radio 4's PM the party needed to "get the ball rolling".
Labour said procedures had been improved including a new helpline.
A party source also said a rule change would be considered when the ruling National Executive Committee meets on Tuesday.
In October last year Ms Bailey told the BBC she had been told by a senior party official that reporting what happened to her could "damage" her and that she was given no advice on what she should do next.
Labour then commissioned a review by QC Karon Monaghan to investigate the way it handled her allegations and to assess and make recommendations about the party's procedures for handling such complaints.
Speaking to the BBC's PM programme, Ms Bailey said the party had been given the review in May and that she had had to fight to read it herself, saying Labour had kicked it "into the long grass" and not implemented the suggestions.
"The party asked for recommendations and was given recommendations but a number of months on they haven't been implemented, I don't think they've even been discussed," she said.
"Making the decision to speak out originally wasn't easy, but I spoke out because I want the party I love to be better and I knew there were real problems with sexual harassment that weren't being resolved, that were being ignored."
The key change she said she and other women wanted, was an independent complaints system, rather than "staff and election officials investigating and adjudicating on themselves and their friends".
'Incredible bravery'
Urging NEC members to read the report before discussing changing the rules, she added: "Women in the party have been waiting a really long time for this and we should be able to feel safe, to feel like our issues are listened to and to be able to report it when things go wrong."
She said it was "crucial" that the ruling committee implemented a "simple rule change" to enable an independent complaints process.
Labour said it thanked Ms Bailey "for her work to improve these procedures and for her incredible bravery".
"Karon Monaghan QC's report assessed the party's previous procedures, which we recognise were not fit for purpose," a spokeswoman said.
"These procedures have since been improved, for example by introducing a helpline for members to report complaints, anonymising all cases, and appointing an independent specialist organisation to offer confidential advice and support to any individual affected by sexual harassment within the party.
"The party is currently considering further changes to our procedures in light of Karon Monaghan QC's report, to ensure sexual harassment complaints are always dealt with promptly, fairly and with utmost confidentiality."