Brexit: May trying to 'intimidate' MPs says Cable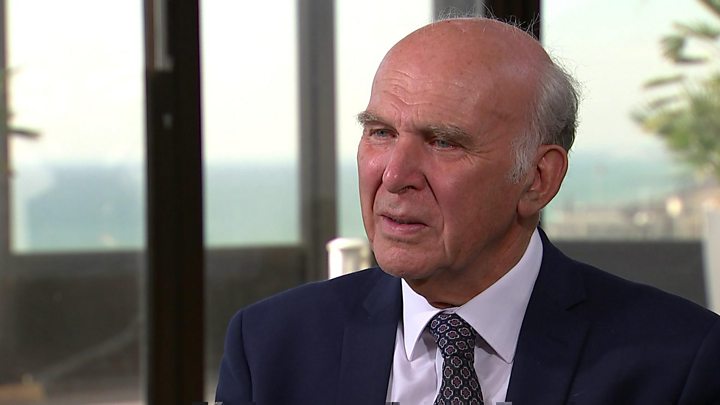 Theresa May is trying to "intimidate" Tory MPs into voting for her version of Brexit, Sir Vince Cable has claimed.
The Lib Dem leader told the BBC he did not accept the choice the prime minister was offering of an exit based on her Chequers agreement or no deal.
He said time was not a barrier to a referendum on the final Brexit deal as this could be agreed in "a few weeks".
Asked about how long he would carry on as leader, he said he would be "very busy for quite a long time".
Sir Vince has said he will step down as leader once Brexit is resolved or stopped, prompting speculation that his keynote address on Tuesday will be his last as Lib Dem leader.
On Brexit, he said there was a "growing demand" for what campaigners are calling a People's Vote on the outcome of the current negotiations with the EU.
He suggested a ballot - in which the public would be asked to choose between any deal reached by the government and remaining in the European Union - could be arranged within weeks.
"Time isn't an enormous problem," he told BBC News. "They can set up a people's vote within a relatively short time frame. I would hope in a few weeks, but overall we need more time for this anyway. "
The government, he said, had "backed itself against the wall" and the EU would agree "if asked" to extend the Article 50 process which sets a time limit on Britain's membership "to give more breathing space."
'Not about survival'
The prime minister, he suggested, was trying to coerce her MPs into voting for her preferred version of Brexit by warning that the only alternative was leaving without a deal.
"She is posing the question in the way she wants to pose it and she's trying to intimidate a lot of her own backbenchers who are deeply unhappy about the way Brexit's going."
Sir Vince said his proposed shake-up of the party - which sees people join for free and non-MPs allowed to stand to become leader - were "not about survival" but bringing people to the party who were alienated by "extremists" taking over Labour and the Conservatives.
"I want us to survive as a massive political force and to bring in the very large number of people who are extremely alienated and frustrated because they see the extremists taking over the two main parties," he said.
"We've got to make ourselves welcoming and successful."
Asked if he would miss being party leader when he finally stood down, Sir Vince said he had set out a "series of tasks to perform" in the near future, relating to Brexit, local elections and his proposed shake-up of the party.
"'I'm going to be very busy for quite a long time," he said.