UK and Pakistan to step up money laundering action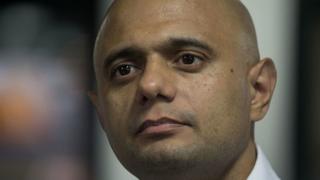 The UK will work closely with the Pakistani authorities in their fight against money laundering, Sajid Javid has said on a visit to the country.
The British Home Secretary said the two nations would share evidence to enable more prosecutions to be brought.
Prime Minister Imran Khan has promised to bring back money he alleges has been "stolen" and invested or hidden abroad.
Although there have been ad hoc extraditions from the UK in the past, no formal legal arrangements exist.
Earlier this year the former Prime Minister Nawaz Sharif was sentenced to 10 years in jail for failing to explain where the money came from to buy four flats in central London.
Two of his sons and the former Pakistani Finance Minister are currently living in the UK, but are wanted for trial on corruption charges in Pakistan.
Mr Sharif, his family and former Finance Minister Ishaq Dar have always denied the allegations, and dismissed them as a political conspiracy.
On a visit to Islamabad, where he held talks with Mr Khan, Mr Javid refused to talk about "individual cases" but told the BBC that the government took the issue of corruption "very seriously."
He told reporters at a news conference that he had not discussed specific amounts of money suspected of being laundered in the UK, or measures that could be taken to recover them, but the two countries would be cooperating to boost accountability and to ensure that "no-one escapes justice or acts with impunity".
Mr Javid said a new envoy to Pakistan would be appointed to liaise on the issue with a Pakistani counterpart.
Mr Khan swept to power earlier this year on an anti-corruption platform.
'Special place'
Shahzad Akbar, the Special Assistant to the Pakistani Prime Minister on Accountability, told reporters that the decision to request Mr Dar's extradition would have to be first made by the country's anti-corruption court.
Mr Javid, whose parents emigrated to Britain from Pakistan in the 1960s, is making the first visit to the country by a British minister since last year's general election.
He told the BBC that Pakistan was one of the UK's "most important bilateral relationships" but he wanted to improve cooperation on security.
During a visit to a girls' school earlier in the day, Mr Javid - tipped by some as a future prime minister - told pupils: "whilst I am very proud to be British, Pakistan has a very special place in my heart and always will".
Asked whether a British Pakistani could become prime minister, Mr Javid replied that "in today's Britain it doesn't matter where you come from. As long as you're willing to put in the effort you can achieve anything", before adding that he "loved" being home secretary.