EU could extend Brexit process to give UK more time - Nick Clegg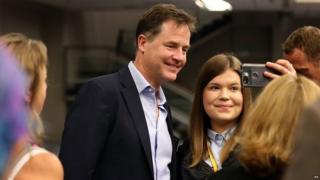 European leaders are "seeking to find some way of giving Britain more time" to avoid a no-deal Brexit, Sir Nick Clegg has said.
The former deputy prime minister said he hoped MPs would reject a deal based on Theresa May's Chequers plan.
But he rejected Mrs May's claim that the only alternative to that was a no-deal exit.
And he claimed EU leaders were ready to extend the 29 March Brexit day deadline to allow other options to be explored.
Sir Nick, who is campaigning for a referendum on the final Brexit deal, with an option of staying in, said he had been speaking to senior contacts around Europe and he had "recently" noticed a change in attitude in Paris and Berlin.
"The key people across Europe are now seriously focused on the idea that they would be willing to give Britain more time," he told a fringe meeting at the Lib Dem conference.
He said the "frenzied rush to get everything done" by 29 March next year was "driving everybody round the bend".
Cul-de-sac
And if there is "deadlock" in Parliament when MPs get the "meaningful" vote they have been promised then EU leaders could act to prevent the UK from being "stuck in a cul-de-sac of its own making".
He said he had been speaking to European leaders he knew who were still in office and members of EU negotiator Michel Barnier's team, who he had worked with in Brussels before he was an MP.
On Monday, Lib Dem members voted overwhelmingly to back a motion calling the government to extend Article 50, the time-limited process taking Britain out of the EU, to "legislate for a referendum on the deal or to provide enough negotiating time to avoid a catastrophic no-deal scenario".
If an extension is not agreed the government should withdraw the Article 50 notification, the motion adds.
Sir Nick also made a passionate defence of his party's record in coalition government with the Conservatives between 2010 and 2015.
Hitting back at Lib Dem deputy leader Jo Swinson's call for the party to talk more about what it got wrong in government, he said the party should instead take "pride" in what it achieved.
This included "stopping Brexit for five years" and "reining in" planned public spending cuts.
British Macron?
And the former Lib Dem leader spoke about coalition partner David Cameron's legacy.
"He is not stupid. He will know that the thing he will be remembered for forever, politically speaking, is the decision to hold the referendum".
He said he had told Mr Cameron privately "what a daft idea I think it was".
He said the "sadness" and "irony" of Mr Cameron's career was that he was a "worse Conservative prime minister than he was holding the ring in a coalition government".
"The moment he could do what he liked it went pear-shaped," said Mr Clegg, because he could not control Tory right-wingers.
He also took a swipe at Labour, describing them as a "pants" opposition and accusing them of being the "foot soldiers of a Tory, regressive Brexit".
And he laughed off a suggestion he could be the "British Macron" - a reference to French President Emmanuel Macron's En Marche movement, which was founded in 2016 as a new pro-EU party and swept to victory the next year.
"I'd love to think some sort of British Macron would come charging over the horizon and save us all from Brexit," he said.
"But the secret to these breakthrough characters is precisely that they arrive relatively unencumbered by baggage."