Len McCluskey: Labour could attract new members if Tony Blair left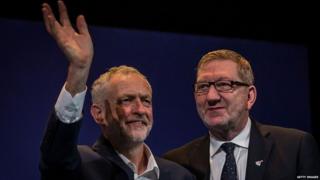 Labour might attract new members if Tony Blair left the party, Unite union leader Len McCluskey has claimed.
Mr McCluskey, an ally of leader Jeremy Corbyn, told the BBC the former prime minister had become "toxic" to many and it would make little difference if he cut his ties with the party.
Mr Blair led Labour to general election victories in 1997, 2001 and 2005.
But he said last week it was now a "different" party and he was not sure centrists could "take it back".
Mr Blair, who has been a frequent critic of Labour's shift to the left under Mr Corbyn, said many people in the centre and centre-right of the party believed the "game was over" for Labour, but he hoped that was not the case.
Mr Corbyn's allies have hit back, saying Labour has become a mass movement again under his leadership and there will be no return to the domestic and foreign policies of the New Labour era.
In an interview for BBC Radio 4's Political Thinking podcast, Mr McCluskey was asked by its host Nick Robinson what his response would be if Mr Blair decided to renounce his long association with the party.
"Well, it wouldn't really make any difference to be honest with you," he replied. "It may actually attract more people towards Labour.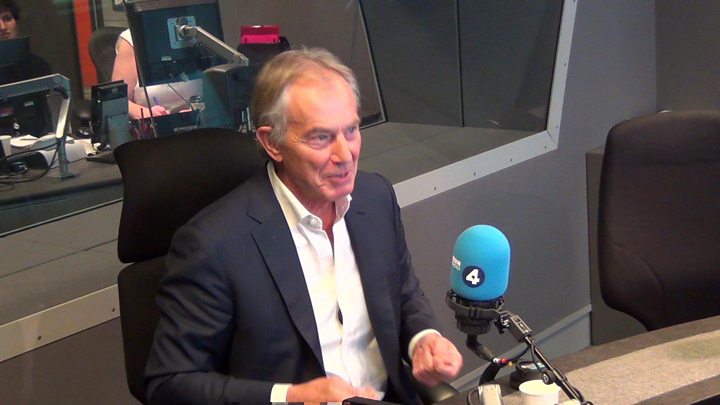 "Tony's obviously a consummate politician. Unfortunately for him, he has become toxic, and the Iraq war and all that went with it. What he's done since then amassing personal fortunes has dented a belief in him."
Jon Lansman, founder of campaign group Momentum, recently suggested Mr Blair was in the wrong party and the achievements attributed to his government - such as the minimum wage and Sure Start children's centres - were the work of others.
In the Radio 4 interview, Mr McCluskey also suggested the party's deputy leader, Tom Watson, was in a "dark place" and rejected suggestions that he wanted to remove him from his elected post.
The two men were friends and political allies, but fell out in 2016 after an unsuccessful revolt by Labour MPs against Mr Corbyn's leadership.
Relations worsened after Mr McCluskey claimed his old flatmate tried to "interfere" in his re-election bid last year. Labour's deputy leader has since suggested Mr McCluskey and his union allies are "coming for him".
"I am sorry I've lost Tom's friendship," Mr McCluskey said. "Tom is in, I think, a dark place at the moment. I am not sure he knows personally where he wants to go and what he wants to do.
"To be fair to him, he hasn't particularly attacked Jeremy Corbyn since he was part of a coup to remove him which failed miserably. I don't know what Tom's game is.
"To be honest, I don't give him much thought and I certainly don't plan to bring him down."
The Political Thinking podcast is available to download or listen to on BBC iPlayer Radio.