Are you thinking what I'm thinking?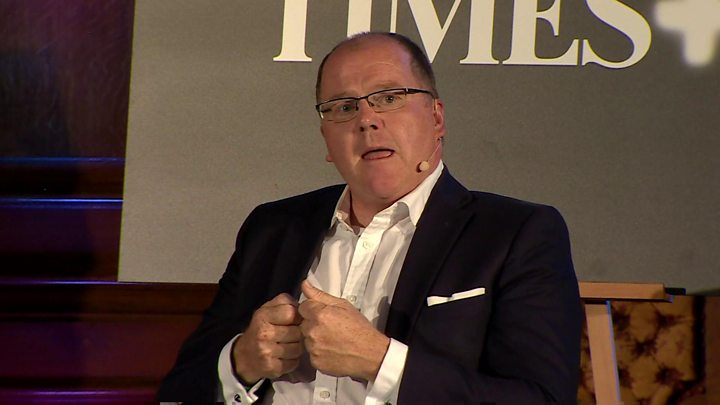 That phrase was an unfortunate slogan, which attracted a lot of criticism for its implicit messages, from the Tory election campaign back in 2005.
Then, many in the party felt that the existing top brass had passed their best, and the Conservatives needed fresh thinking and leadership.
The slogan may have baggage, but more than a decade later, that question rather sums up why the suggestion from former minister George Freeman, on Thursday evening, that Theresa May should move on after March, can't be easily ignored.
Very few Tory MPs want to say it publicly, but if they asked each other, "Are you thinking what I'm thinking?" many of them would confess, and admit privately in conversation that once the Brexit deal is done and we have left the EU in the spring, then Theresa May should make clear her intention not to fight the next election at a minimum.
Many believe that she should depart, or say that she is off almost immediately after that moment.
'In March she's gone'
Mr Freeman is not trying to push her out now and was effusive in praise for how she's managed so far.
But his comments underline a widespread private assumption shared by many MPs and some ministers too - which of course may turn out to be wrong - that once the tortuous process of getting out of the EU is done, the best hope for the Tories of turning the page on the whole saga, is a new face at the helm.
One senior MP, who is trying their best, for now, to keep the very rocky show on the road and who knows Theresa May well and has advised her many times told me: "In March she's gone. Either she will have to set that out or people like me will tell her she has to go.
"If she doesn't say she's off, the letters will go in, and that will be it, so we can move on."
Some of the ministers seeking to make their mark have notions that they have a few months to do that before a potential contest.
Remember, one of the big reasons that there hasn't been a leadership contest so far is that no wannabe wanted to take on the problems of Brexit.
Once we have actually left, while many decisions and complexities will linger, the UK will have actually left, which should, in theory at least, create a space to change the political conversation.
This is not about a handful of Brexiteers agitating to shove her out rudely because they don't like the direction of travel for the next few months. It's not about saying that there will be a sudden schism and they will crash into a leadership contest.
But it's about a general sense across different wings of the Conservative Party, that Theresa May's time and political energy will have been run down by Brexit.
Hold on for a minute. Politics is a rollercoaster - of course this is not inevitable.
One government minister was furious this week when I asked about the very assumption that Mrs May could have less than a year in office, lambasting colleagues for discussing the subject, practically claiming that it's not a genuine topic of conversation.
Another of her Cabinet allies told me tonight that "if she delivers a good Brexit deal and the country is still moving forward, then Theresa May will still find herself in a very good position", with the potential of leading the country and staying on for years to come.
Certainly, time after time Theresa May has surprised and defied those who've tried to tear her down.
What is the case though, is that many Tories have already made their minds up, that her time will be up within the next year. And in articulating his view publicly, Mr Freeman is saying what huge numbers of his colleagues have been thinking too.