Diane Abbott unveils Labour's new immigration policy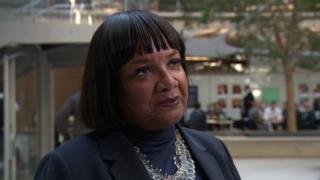 A Labour government would bring in a simplified visa system for foreign workers with "bona fide skills", Diane Abbott has said.
The shadow home secretary said the party would also scrap the government's "bogus" net migration target.
She set out plans for a "flexible work visa" to end the "idiocy" of medical staff not being able to take up jobs.
Migrants from outside the EU should be treated with the same "fairness" as EU migrants after Brexit, she added.
The Conservatives said Labour's new policy would "tear up the rules for people coming from outside the EU which would allow more low-skilled immigration".
Under the current system, non-EU migrants are rated on whether their skills are needed by the UK economy, with occupations ranked in tiers drawn up by the Migration Advisory Committee.
Under Labour's plans "anyone with specified bona fide skills can come here to work," Diane Abbott said in a speech.
A "new, integrated work visa" would "allow a future Labour government to "offer rights of work and residency and accelerated citizenship to a range of professions, workers and those creating employment who want to come here," she added.
"It will be available to all those we need to come here, whether it is doctors, or scientists, or care workers.
"This will apply across a range of jobs, skills and professions. People coming to take up specific job offers, where it can be shown that those jobs cannot be filled by workers already resident here, will be able to come here.
"We will use intelligence from the Migration Advisory Council, from trades unions, from employers - private and public - and from devolved governments and local and regional elected bodies to identify needs and to meet them."
The policy would "sit alongside the existing visas for business trips, students, visitors and tourists" and bring an end to "the idiocy of preventing doctors and nurses from coming here to take up job offers".
Ms Abbott vowed to scrap the government's target of reducing net migration - the difference between those arriving in the UK and leaving - to below 100,000 a year.
"The target had never been met and never will be met," she told the BBC, and called for "a new conversation about migration that is not fixated on numbers".
She vowed to scrap the minimum income requirement for non-EU migrants and to give people "more rights of family reunion".
What the party's policy towards migrants from the EU would be after Brexit would depend on what the current government agreed in Brussels, she told the BBC, but she wanted to see "fairness" between the two categories.
"We want an immigration system which is fair, and which is managed, in the interests of the economy and the community as a whole," she added.
The shadow home secretary is also pledging that Labour will abolish the Immigration Act 2014 and end the "hostile environment" policy deployed by the government, which she said had led to the Windrush scandal.
But she insisted Labour would act against illegal immigration and "make the system of deportation of overseas criminals much easier and smoother".
"If a judge issues a recommendation for deportation for serious criminals post-sentence, that should be carried out as a matter of routine. From the prison to the airport," she said in her speech.
For the Conservatives, immigration minister Caroline Nokes said Labour had "no interest in getting control of our borders as we leave the EU".
"Only the Conservatives will end free movement and build a fair and controlled immigration system," she added.