Jacob Rees-Mogg brushes off protest outside home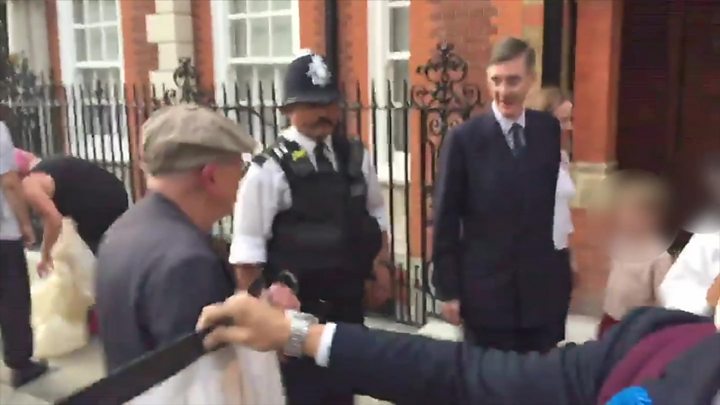 Conservative MP Jacob Rees-Mogg has brushed off a demonstration outside his Westminster home where a protester shouted at his children.
A video on the Facebook page of the Class War group shows a man telling one of the Tory MP's children "your daddy is a horrible person".
The Archbishop of Canterbury, Downing Street and many MPs have strongly criticised the stunt.
But Mr Rees-Mogg told LBC: "I wouldn't get too excited about it."
He added: "It was a few anarchists who turned up and it wasn't very well organised. It wasn't terribly serious.
"We are a free country. They weren't violent. They aren't admirers of mine. I am in public life and not everybody is going to like me. That is a reality of public life.
"I'd have preferred it if it hadn't happened but I don't want to get it out of perspective. I think much worse things happen to many other people."
Police officers stood between the protesters and the MP during the incident outside his Westminster home.
Downing Street said the "intimidation" was "completely unacceptable".
"No elected member or their family should be subjected to intimidation or abuse in that way," said the prime minister's spokesman.
On Twitter, Archbishop of Canterbury Justin Welby said it was a "shameful and disgraceful" episode.
"We are - and must be - better than this," he said, adding that he would be praying for Mr Rees-Mogg's family that evening.
Also writing on Twitter, Labour MP Yvette Cooper said the children of high-profile politicians should never be regarded as "fair game".
Labour's shadow Brexit minister Jenny Chapman told the BBC's Politics Live the protesters' behaviour was "abhorrent".
In the Class War video, a protester asked Mr Rees-Mogg how much he paid his family's nanny, and when she too came out on to the street, demanded to know her salary and told her she had "Stockholm Syndrome".
A subsequent Class War Facebook post said people were getting their "knickers in a twist" over the footage, saying the MP's family had come outside after the protesters arrived.
The protest is believed to have been staged by veteran anarchist Ian Bone, who has taken part in similar stunts in the past.
Conservative MP Anna Soubry said it was "more evidence of how low our politics has sunk".