Boris Johnson Brexit article offers 'no new ideas', Downing Street says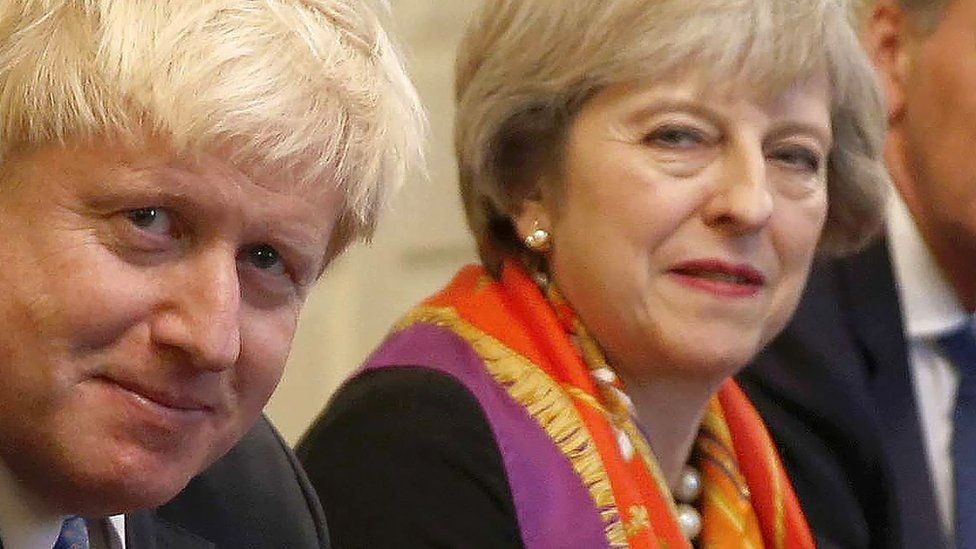 Downing Street has hit back at Boris Johnson over his criticism of Theresa May's approach to Brexit, saying she is providing "serious leadership" and "a serious plan".
Mr Johnson has written in the Daily Telegraph that the approach agreed at Chequers "means disaster" for Britain.
The ex-foreign secretary said the PM's plan would hand the EU "victory".
But Mrs May's official spokesman said: "There's no new ideas in this article to respond to."
Downing Street said the prime minister's blueprint for future relations with the EU, hammered out with cabinet members at her country residence in July, was deliverable and could win the support of the House of Commons.
And former home secretary Amber Rudd told the BBC's Politics Live: "Once again, it's a case of leap before you look - there's absolutely no proposal here."
Ms Rudd said the Chequers plan represented "the best shot we have of Brexit that's going to work for the UK".
Mr Johnson resigned from the government in July in protest at the deal agreed by the cabinet at Chequers, the prime minister's country residence, as the UK's preferred way forward in negotiations with Brussels.
Other Tory MPs have also criticised the package, and the EU's chief negotiator, Michel Barnier, says he is "strongly opposed" to the proposals.
Mrs May's plan would see the UK agreeing a "common rulebook" with the EU for trading in goods, in an attempt to maintain frictionless trade at the border.
Critics argue this would leave the UK tied to EU rules after it leaves on 29 March 2019, and prevent Britain from striking its own trade deals in years to come.
If the UK and the EU do reach a deal, MPs will then have to approve it.
In his first intervention on the EU debate since quitting the government, Mr Johnson compared negotiations between Brexit Secretary Dominic Raab and Mr Barnier to a wrestling match.
He wrote: "The whole thing is about as pre-ordained as a bout between Giant Haystacks and Big Daddy; and in this case, I am afraid, the inevitable outcome is a victory for the EU, with the UK lying flat on the canvas and 12 stars circling symbolically over our semi-conscious head."
Mr Johnson said negotiations based on the Chequers plan had so far seen the EU take "every important trick", adding: "The UK has agreed to hand over £40bn of taxpayers' money for two-thirds of diddly squat."
If it continued on the same path, Mr Johnson added, the government would "throw away most of the advantages of Brexit".
Mr Johnson also accused some members of the government of using the issue of the border between Ireland and Northern Ireland to "stop a proper Brexit", but added: "They have been rumbled."
The "scandal" around the border problem was "not that we have failed, but that we have not even tried", he added.
Mr Johnson argued that a hard border would not be needed after Brexit - because people did not need to be checked due to the Common Travel Area and that any checks on goods could be done away from the border.
In response, Mrs May's official spokesman said: "What we need at this time is serious leadership with a serious plan and that's exactly what the country has with this prime minister and this Brexit plan.
"She is a serious prime minister and she has put forward serious proposals."
But Tory Brexiteer Jacob Rees-Mogg, one of a group of MPs to meet Mr Barnier on Monday, suggested the EU negotiator agreed with him that the Chequers plan was "absolute rubbish" and he preferred the option of a looser arrangement based on Canada's trade agreement with the EU.
"Interestingly, Eurosceptics and Mr Barnier are in greater agreement than Eurosceptics and the government and between Mr Barnier and the government," Mr Rees-Mogg said. "It's very encouraging."
Labour's shadow foreign secretary Emily Thornberry told Politics Live that if Mrs May gave in Brexiteers, "she's going to end up coming back to Parliament with something that's not acceptable to Parliament... so then what happens?"
She added: "To hear some members of the Conservative Party play fast and loose with the [Northern Ireland] peace settlement is disgusting."
Scotland's First Minister Nicola Sturgeon described Mr Johnson as a "charlatan" who must share in responsibility for the "disaster" of Brexit.
Downing Street also rejected a proposal from former Conservative minister Nick Boles for the UK to stay in the European Economic Area to allow time for a new trade deal to be negotiated.
Mr Boles said the PM's plan, as it stands, has "close to zero" chance of winning support from Parliament while former education secretary Justine Greening told Radio 4's World at One that it was "more unpopular with the British public than the poll tax" and Theresa May should consign it to history.
"She should now accept it has not worked and look for alternative routes through," she said.
On Sunday, the prime minister wrote that she was "confident" a "good deal" could be reached on Brexit.
But she said it was right for the government to prepare for a no-deal scenario - even though this would create "real challenges for both the UK and the EU" in some sectors.