Corbyn: Tech firm tax could fund journalism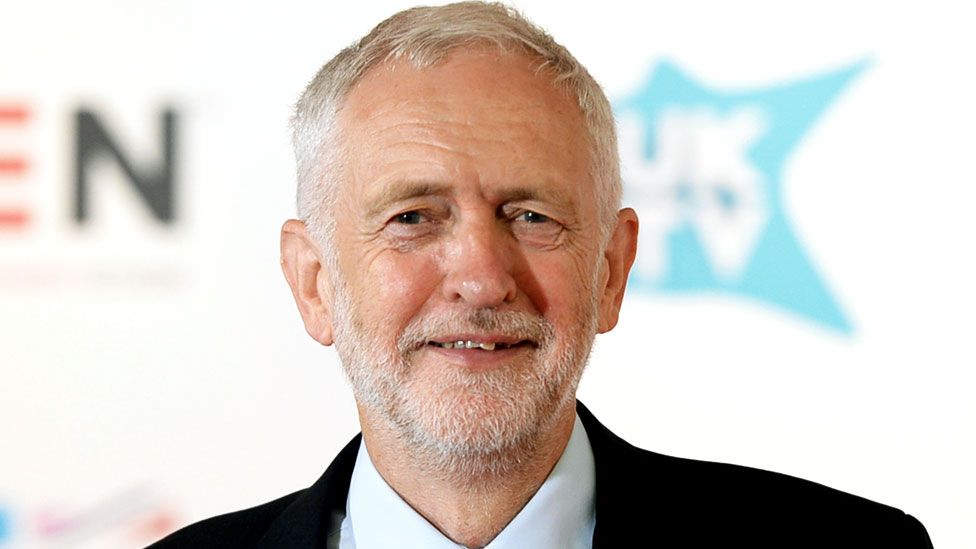 A windfall tax could be levied on tech giants such as Google, Amazon and Facebook to pay for public interest journalism, Jeremy Corbyn has said.
Other ideas include a "digital licence fee" - paid for by big tech companies and internet providers - and publishing data on BBC employees' social class.
The Conservatives said the "internet tax" would increase consumers' bills.
Speaking on Thursday in the Alternative MacTaggart lecture, Mr Corbyn said the British press is "the least trusted press in Europe".
He said he wants greater investment in investigative, public interest journalism. Existing not-for-profit news organisations, like the Bureau for Investigative Journalism, could be given charitable status, he said.
This "public interest media fund" could be paid for either through a content sharing and advertising revenue agreement with Google, similar to that agreed in France or Belgium in 2013.
Or, if it is not possible, he said a Labour government would be prepared to explore a one-off tax on the profits of the market-leading search engine and other platforms.
He wants a "dogged" local media with the "money and time" to work on stories. He said quality journalism "requires decent pay", citing statistics which show 24% of journalists earn less than £20,000 a year
Journalists in the private sector could elect their editors to help "make them accountable to their staff" as well as corporate bosses
New "news co-operatives" could be created to report on local government, private contractors operating public services, and regulated bodies
"The best journalism takes on the powerful, in the corporate world as well as government and helps create an informed public," he said.
The Labour leader, who has been subject to fierce attacks by sections of the British press and has criticised leading tech firms over tax avoidance and data misuse, claimed journalists are being "held back" by media tycoons and, in the case of the BBC, by excessive state influence.
Mr Corbyn also suggested a series of proposals for the BBC, including publishing the social class of "all creators of BBC content, whether in-house or external".
Responsibility for deciding the licence fee could be taken away from ministers and handed to an independent body.
And he said the digital top-up to the licence fee from tech giants could help reduce the cost of the licence fee for poorer households.
BBC staff and licence-fee payers could elect some BBC Board members which he said would reduce political influence
National and regional BBC boards could be expanded with quotas for women and minority groups to "help decentralise the BBC"
A publicly-owned "sister organisation to the BBC" could be created called the British Digital Corporation, to provide information and entertainment to rival Netflix and Amazon
David Sillito, BBC media and arts correspondent
There are two big themes here. One the state of journalism, the other the state of the BBC.
With sales of newspapers dropping, journalism - especially local journalism - is without doubt going through a difficult period.
Extra cash would make a big difference but offering tax breaks and subsidies to 'public interest journalism' brings the challenge of a government deciding what sort of journalism is in the 'public interest'.
Politics also underlies the proposals for the BBC.
Getting rid of the negotiations with the government over the BBC's Charter and handing control over setting the licence fee to an independent body would remove one of the political levers over the corporation.
Elections for BBC Board members would introduce its own political questions.
The underlying point behind all this is Jeremy Corbyn's feeling that the print media and TV and radio news is failing the public - and Labour has not been given fair coverage.
Responding to a question from a journalist about the recent ongoing media coverage of anti-Semitism in the Labour Party, Mr Corbyn said his speech was not an act of "retribution or retaliation" to recent negative reports.
He added that he has "spent his life opposing racism and anti-Semitism in any form".
The Conservatives said Labour's proposals were economically illiterate and would hurt consumers.
"Tech companies would just put up their prices and pass this internet tax straight onto families and businesses across the country - adding more pressure to weekly bills," said its deputy chair James Cleverly.
Ian Murray, the executive director of the Society of Editors, said it welcomed any debate - provided it is done without a political agenda - and the industry would need to discuss the proposals with any future Labour government.
Antony Walker, the deputy head of techUK which represents over 950 technology companies, said many firms are already working with the Cairncross Review, set up to look at the future of journalism in the UK.
Mr Corbyn has long supported a review of media ownership rules amid longstanding concerns within the party about the power of companies such as Rupert Murdoch's News Corp and 21st Century Fox.