Labour MP Chris Williamson's 'democracy roadshow' criticised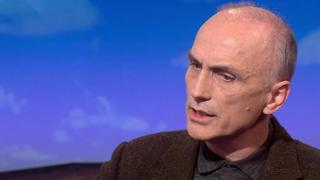 An ally of Jeremy Corbyn's has rejected claims he is using a tour of Labour constituencies to push for the removal of critics of the party leader.
Chris Williamson said his "democracy roadshow" was an attempt to engage seriously with activists, rather than oust MPs whose views he disagreed with.
Veteran MP Barry Sheerman has accused his colleague of deliberately targeting the seats of "moderate" MPs.
He urged Mr Corbyn to condemn what amounted to a "deselection roadshow".
Mr Williamson has called for Labour MPs to face mandatory reselection before the next general election as part of a package of sweeping internal reforms designed to give activists greater power over policy.
Critics of the idea - which would require sitting MPs to face a ballot of members before being readopted - say it is a way of weeding out those on the right of the party who disagree with the party's direction.
Mr Williamson is travelling around the country with other prominent supporters of Mr Corbyn, including Fire Brigades Union leader Matt Wrack and Aslef president Tosh McDonald, to make the case for greater democracy and accountability within the party.
A video of Mr McDonald and Mr Williamson riding Harley-Davidsons, in which the MP describes members as Labour's "greatest assets", is being used to promote the tour.
They are due to speak at more than 20 venues in England and Wales, having already held events in Durham, Redcar, Liverpool, Plymouth and Ilford among others.
A website promoting the roadshow highlights meetings due to take place in Dudley North and Nottingham East, whose MPs Ian Austin and Chris Leslie are among Mr Corbyn's most vehement critics.
Mr Sheerman, whose Huddersfield constituency is due to be visited by Mr Williamson on Friday, said there was a focus on areas, including in West Yorkshire, represented by MPs on the centre and centre right of the party.
'Deeply concerned'
The former minister, who was first elected to Parliament in 1979, said Mr Williamson believed the visits were endorsed by the party leadership and Mr Corbyn must distance himself from them.
"I am deeply concerned that the future of the party will be put in jeopardy if Chris Williamson's activities are not promptly condemned," he said in a letter to Mr Corbyn.
"I would not raise this matter unless I was deeply concerned that this activity will seriously damage our party's chances of winning the next general election."
Mr Williamson has defended the tour as an opportunity to make the case for "common sense socialism" in the Labour movement and to ensure the "transformative" change promised by Mr Corbyn can be delivered in government.
He told the website Labour List that he was not targeting individual MPs and had been invited to speak by party members in the constituencies concerned.
"This is not some great plan to oust centrist MPs from the party," he said. "I might have views on the politics of certain MPs but that is not the point. The point is simply to engage with and listen to our members and to strengthen democracy in our party".
Labour is considering a series of changes to party democracy - including rules for future leadership elections - but the issue of mandatory reselection is not part of a review due to report at next month's conference.
Mr Williamson quit the front bench earlier this year, shortly after he called for council tax on the most expensive homes to be doubled - a policy rejected by the party leadership.
The outspoken MP has attracted controversy since, defending and subsequently sharing a platform with a Labour activist expelled from the party for haranguing Jewish MP Ruth Smeeth at the launch of the party's anti-Semitism review in 2016.
Over the weekend, he was criticised for tweeting that it had been a "privilege" to have met blogger Vanessa Beeley, who has defended the regime of Syrian president Bashar al-Assad and previously described murdered MP Jo Cox as a "warmongering Blairite".