Lord Sheikh Tunisia row: complaint 'politically motivated'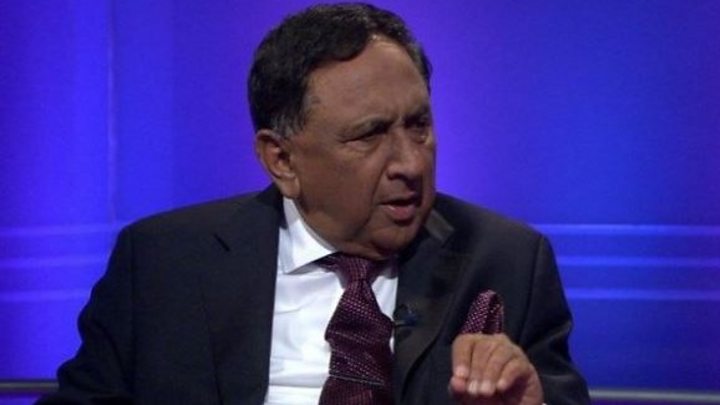 A Tory peer says complaints about his attendance at a conference in Tunisia "are politically motivated", because of his criticism of Boris Johnson.
Three Conservative MPs filed complaints against Lord Sheikh, claiming "anti-Semites and terrorists" spoke at the 2014 event on Palestinian rights.
The peer claimed it was a reaction to his calls to kick Mr Johnson out of the party over comments about the burka.
But one of the MPs, Robert Halfon told the BBC: "I'm not a Boris groupie."
In a Daily Telegraph column, former Foreign Secretary Mr Johnson had criticised Denmark's decision to ban the full-face veil but in doing so likened Muslim women who wore them to "bank robbers" and said they "look like letter boxes".
The Conservatives received dozens of complaints and launched an internal investigation, with Lord Sheikh writing to party chairman Brandon Lewis to call for "serious action".
And the Conservative Muslim Forum founder claimed that subsequent calls for an inquiry into his trip to the same 2014 conference in Tunis attended by Labour leader Jeremy Corbyn were "politically motivated" as a result.
"I think these people who are trying to complain about me are perhaps doing this because I have talked about what Boris Johnson has said being wrong," he told BBC Radio 4's Today programme.
Mr Halfon and fellow MP Zac Goldsmith had complained to party HQ over Lord Sheikh's attendance at the International Conference on Monitoring the Palestinian Political and Legal Situation in the Light of Israeli Aggression. Their colleague Andrew Percy lodged a separate complaint.
In a reference to Mr Goldsmith's unsuccessful London mayor campaign, which was criticised for attempting to link Labour rival Sadiq Khan to Islamist extremists, Lord Sheikh added: "I was very surprised about the fact that Zac Goldsmith has made the complaint.
"When Zac Goldsmith was standing for mayor in the election he made some unsavoury remarks about Sadiq Khan and that campaign backfired and I feel that Zac Goldsmith should have learnt following his failure to be elected as mayor of London."
'No ordinary conference'
In their letter Mr Goldsmith and Mr Halfon, a member of the Conservative Friends of Israel, said the event had been "no ordinary conference".
"The evidence suggests that this conference was addressed by anti-Semites, and terrorists. An alleged terror chief from Hamas reportedly said that violence was 'magnificent'," they wrote.
Mr Halfon rejected the suggestion that his letter was politically motivated, telling the BBC: "My key point here is that if we're going to attack Jeremy Corbyn for attending such a conference, we have to have a level playing field."
Mr Corbyn has faced questions about a wreath-laying ceremony he attended during his trip to the conference, which took place near memorials to people accused of having links to a terrorist attack at the 1972 Olympic Games. Lord Sheikh has said he neither attended the wreath-laying nor knew about it, and that he did not meet any members of Hamas.
But Mr Halfon added: "[Lord Sheikh] would have asked for a guest list surely? He shouldn't have gone to that conference. It's clearly a conference that's quite extreme."