British National Party pinning hopes on money from wills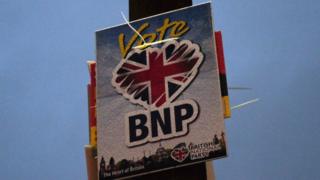 The British National Party says money left to it by supporters is set to be a "large contributing factor in the future of our movement".
Nearly half the party's income in 2017 came from people leaving money to it in their wills, its latest accounts show.
Legacy income came to £110,000 - 47% of the party's total income of £229,665.
The anti-immigration party has massively scaled back its electoral activities in recent years in an effort to cut its debts.
It stood just eight candidates at last year's general election, compared with 326 in 2010, when Nick Griffin was its leader.
It has refocused its activities on local, grassroots campaigning under current leader Adam Walker, although it does not currently have any elected representatives above town or parish council level.
The BNP's total income dropped from £416,533 in 2016 to £229,665 in 2017, according to its accounts, which have been published by the Electoral Commission.
The party is continuing as a "going concern" despite a negative balance sheet because it "has begun to manage its affairs in a manner that enables it to make a surplus sufficient for its needs", the financial statement says.
It has also "maintained the backing of its members", the document adds, and "has the prospect of significant legacy income in the foreseeable future".
All political parties raise funds from legacies and most have schemes to encourage people to leave money in their wills, with instructions on their websites on how to do this.
But long-established smaller parties such as the BNP tend rely more heavily on this as a source of income than their larger rivals.
For example, more money was left to the BNP in 2016 - £256,000 - than was left to the Labour Party in the same year (£224,000), although this amounted to just 1.5% of Labour's overall income.
The BNP's accounts reveal a big drop in legacy income in 2017, with money from membership fees also declining, from £84,939 in 2016 to £63,755.
But party treasurer Clive Jefferson is upbeat about the party's future finances, saying in a statement: "The days of soaring debts for the BNP are over."
He adds: "The indications are that legacy income will continue to be a large contributing factor in the future of our movement."
The party has a section on its website urging supporters to "fight on after you've gone" by leaving all or part of their estate to it.
The BNP's biggest outgoing in 2017 was staff costs, which came to £106,442, and the party's accounts reveal it has set aside funds to guarantee salaries for the next three years.
The Electoral Commission published the BNP financial statement along with accounts for other smaller parties, with incomes of between £50,000 and £250,000.
The BNP had the largest income, followed by the Communist Party of Britain (£118,231), Upminster and Cranham Residents Association (£99,474) - which has six borough councillors, more than the others on the list put together - the Socialist Party of Great Britain (£82,840) and the National Health Action party (£74,469).
The Electoral Commission is set publish the 2017 accounts for Labour, the Conservatives, Lib Dems and other larger parties later this month.