Remain EU referendum campaign spending claims rejected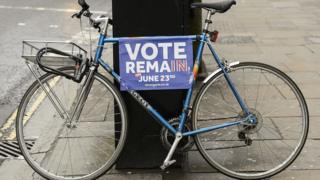 The Electoral Commission has rejected claims that the official Remain campaign breached spending rules in the EU referendum.
The watchdog said it found "nothing beyond conjecture" to support claims of undeclared joint spending between Britain Stronger in Europe and others.
But it is investigating possible joint spending between two other Remain campaign groups.
It was responding to a complaint from Conservative MP Priti Patel.
Earlier this year, the former cabinet minister, a leading Leave campaigner, raised other allegations about the Remain campaign's spending which were rejected by the commission.
In her latest complaint, Ms Patel had argued that spending on pro-Remain adverts by campaign group Wake Up And Vote and a communications company called adam&eveDDB should have counted towards the spending limit of Britain Stronger in Europe.
Groups are not allowed to work together on a "common plan" to spread their costs and avoid hitting spending limits.
In its response, the commission said: "There is nothing we can point to that reasonably indicates some kind of common campaign activity."
It said the fact that Britain Stronger in Europe hosted a video produced by other groups on its website was not evidence of a common plan "in and of itself".
The commission added that campaign groups are allowed to use the same suppliers and volunteers and receive money from the same donors.
For the rules to be broken, it said it was looking for "joint or co-ordinated spending; control or influence over spending by another campaigner; or discussions or consultation about campaign activity that affects spending decisions".
'Show equity'
The commission has, however, decided to investigate whether spending on the videos, featuring actress Keira Knightley, was reported correctly by Wake Up And Vote and adam&eveDDB, saying there was a "reasonable suspicion" that joint spending had not been declared as such.
In her response to Ms Patel, the commission's head of regulation, Louise Edwards, expressed "disappointment" at her suggestion that the watchdog's "impartiality has been compromised".
Ms Patel had urged it to "show equity" between the two sides of the EU referendum debate.
"It would be wrong for us to take decisions on the basis that we must balance action in respect of Leave campaigners with action in respect of Remain campaigners. That would undermine our neutrality, rather than ensure it," Ms Edwards responded.
The commission has carried out several investigations into spending in the 2016 referendum.
Last month it fined Vote Leave £61,000 and referred it to the police after deciding it had exceeded its £7m spending limit by funnelling £675,315 through pro-Brexit youth group BeLeave.
And in December it fined the official Remain campaign £1,250 for failing to deliver an accurate spending return.