Jeremy Corbyn apologises over 2010 Holocaust event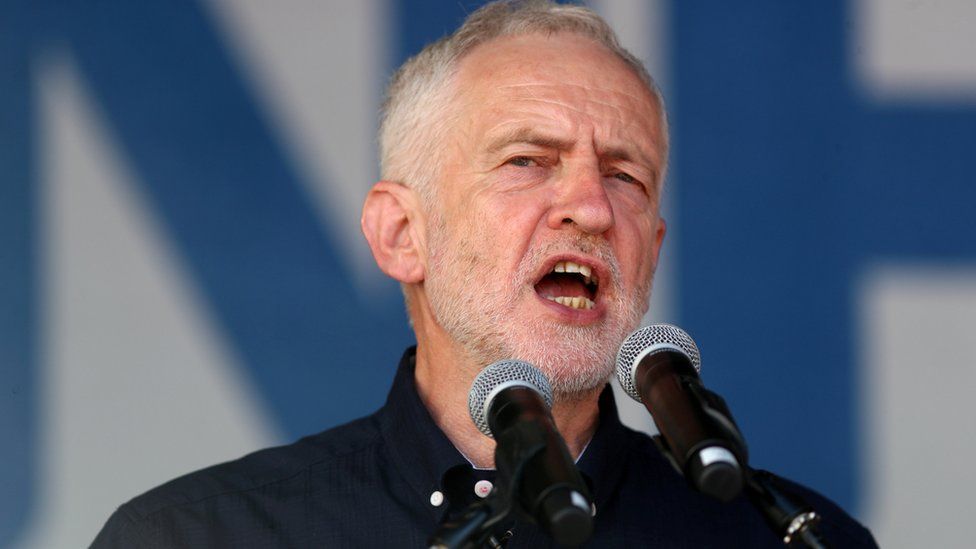 Labour's Jeremy Corbyn has apologised for appearing on platforms with people whose views he "completely rejects".
Mr Corbyn's statement was in response to the Times reporting that he hosted an event in 2010 at which a Holocaust survivor compared Israel to Nazism.
Hajo Meyer's House of Commons talk was entitled 'The Misuse of the Holocaust for Political Purposes'.
Labour MP Louise Ellman told BBC Newsnight she was "absolutely appalled" to hear about Mr Corbyn's involvement.
The Labour leader's apology comes after one of his supporters in the party's National Executive Committee suggested that Jewish "Trump fanatics" were behind accusations of anti-Semitism in Labour ranks.
At the event, which happened on Holocaust Memorial Day 2010, Jewish Auschwitz survivor and anti-Zionist Hajo Meyer, who died in 2014 aged 90, compared Israeli policy to the Nazi regime.
The Commons meeting came during a tour by Mr Meyer entitled 'Never again for anyone - Auschwitz to Gaza'.
The Times said that Palestinian activist Haidar Eid also addressed the meeting, saying: "The world was absolutely wrong to think that Nazism was defeated in 1945.
"Nazism has won because it has finally managed to Nazify the consciousness of its own victims."
Mr Corbyn said views were expressed which he did not "accept or condone".
He added: "In the past, in pursuit of justice for the Palestinian people and peace in Israel/Palestine, I have on occasion appeared on platforms with people whose views I completely reject.
"I apologise for the concerns and anxiety that this has caused."
Analysis: Labour stuck in cul-de-sac of blame
By BBC political correspondent Ben Wright
Prominent Jewish voices inside and outside Labour are furious that the leadership seems to claim a clearer idea about what constitutes anti-Semitism than they do.
Neither the actions nor words of Jeremy Corbyn have managed to calm this argument down.
And while the government struggles to keep its plan for Brexit on the road, Labour appears to be stuck in a cul-de-sac of blame and recrimination on how it's tackling anti-Semitism.
Shadow chancellor John McDonnell said Labour needed to resolve the anti-Semitism issue "as soon as possible".
"It's shaken us to the core really," he said.
"We've got to resolve the issue within the party and then get out there and assist the Jewish community in tackling anti-Semitism."
In July, Labour faced criticism over its new code of conduct on anti-Semitism, which critics claimed did not sign up fully to the International Holocaust Remembrance Alliance's working definition.
Labour says it has included the full International Holocaust Remembrance Alliance definition but has rewritten four of the examples included to expand and contextualise them "to produce legally robust guidelines that a political party can apply to disciplinary cases".
One of the examples changed was the IHRA's one saying: "Drawing comparisons of contemporary Israeli policy to that of the Nazis."
Labour's code of conduct instead says: "Discourse about international politics often employs metaphors drawn from examples of historic misconduct. It is not anti-Semitism to criticise the conduct or policies of the Israeli state by reference to such examples unless there is evidence of anti-Semitic intent. Chakrabarti recommended that Labour members should resist the use of Hitler, Nazi and Holocaust metaphors, distortions and comparisons in debates about Israel-Palestine in particular. In this sensitive area, such language carries a strong risk of being regarded as prejudicial or grossly detrimental to the party."
Following the row the party's MPs will vote in September on whether to adopt the full IHRA wording after passing an emergency motion last week.
Louise Ellman said she was "exceedingly disturbed" by the situation, adding that by diluting the definition of anti-Semitism - a charge which the Labour Party rejects - Labour had "made it possible to compare Israel with the Nazis".
She added: "Jeremy is our leader, we want to be the next government, we need to change the way that this country is run to address the injustices in our society.
"But we can't do that while we are engulfed in this crisis of the Labour Party's inability to deal with anti-Semitism in its own ranks."
Labour MP John Mann, a long-standing critic of Mr Corbyn, told BBC Radio 4 Today that hosting an event called "Auschwitz to Gaza" on Holocaust Memorial Day breached anti-Semitism rules and "breaches any form of normal decency".
"I've no idea how he got himself into that situation, but I'm glad that he has apologised and on the back of that apology is the opportunity to do something significant," he said.
Ann Black, a member of Labour's National Executive Committee and a supporter of Mr Corbyn, urged him to follow the advice of shadow cabinet colleagues and adopt the working definition on anti-Semitism.
She told BBC Radio 4's Today programme that if necessary the party could add assurances that members were free to defend Palestinians or criticise the Israeli government.
"I don't think Jeremy Corbyn is in any way racist or anti-Semitic. I do believe he has the authority and the ability to break the current impasse," she said.