Aid sector 'almost complicit' in sex scandal, say MPs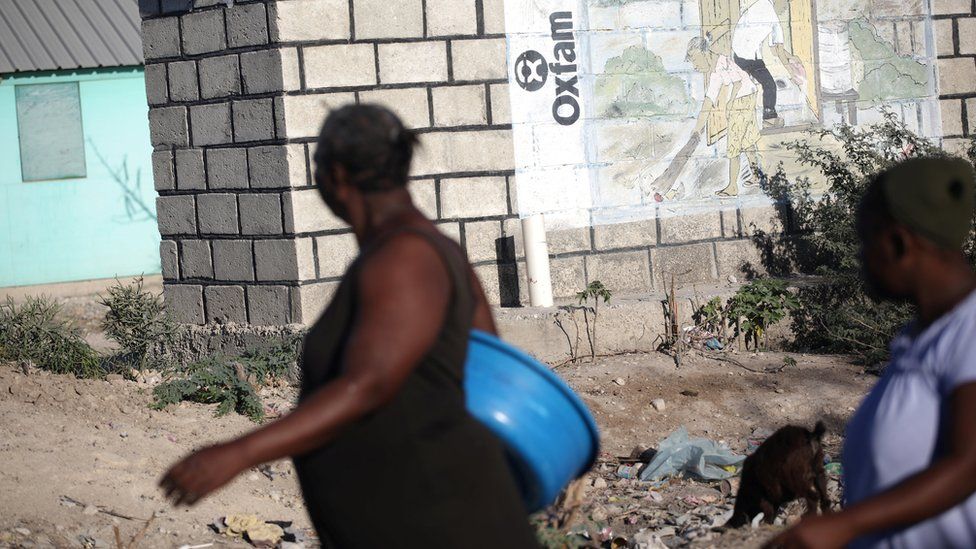 The aid sector is guilty of "complacency verging on complicity" over an "endemic" sex abuse scandal, a damning report from MPs has said.
Stephen Twigg, chairman of the international development committee, said charities were "more concerned to protect their own reputation".
Oxfam Trustees chairwoman Caroline Thomson said the committee had been right to challenge the charity sector and recognised "we have further to go".
The Oxfam scandal, revealed in February in The Times, led to further allegations about UK-based charities.
The report, which looked at allegations dating back to 2001, says the delivery of aid to people had been subverted by sexual predators.
The committee said in their report: "Having understood the length of time that the sector has been aware of these issues, we reflect with confusion on the apparent shock of those we spoke to in the immediate aftermath of the Times report. This has been a known problem in the international aid sector for years."
"So much more" could have been done to tackle the "open secret" of people working in the aid sector committing such acts, the MPs added.
Despite the charities knowing about the problem, the committee said there had been a "collective failure of leadership", with action only when there was a crisis.
The report also said leaders were "self-deluded" in thinking they had addressed problems before they became public.
MPs insisted more resources were needed to tackle the issue - and said victims had to be at the "heart of solutions", or the response could be "harmful".
Mr Twigg suggested something akin to DBS checks, the criminal records check system used in the UK, could be adopted internationally, to provide details of past allegations to prospective employers. "That won't cure this but it's one of the ways in which we can try to ensure this won't happen again," he said.
The MPs also recommended an independent aid ombudsman should be introduced and have called for a global register of aid workers, who will operate according to expected standards.
The committee also suggested:
Ensuring the beneficiaries of humanitarian aid have knowledge of and confidence in their rights
A zero-tolerance culture on sexual exploitation and abuse is the least that victims should expect
Reports of wrongdoing should be proactively sought and responded to robustly, with feedback to victims and survivors
Known perpetrators of sexual exploitation and abuse should be identified through improved reporting and accountability, and prevented from moving into new positions
The report looked at allegations of sex abuse and child abuse by aid workers, dating back to 2001. They found sexual assault and exploitation was "predominately perpetrated against women and girls" and mainly carried out by men.
A 2008 Save the Children report into the under-reporting of child sexual exploitation and abuse, seen by the MPs, said the abusers were "both foreign and national staff", with the majority being "local people employed by international humanitarian organisations".
A 2002 UNHCR and Save the Children report, which looked at refugee camps in Liberia, Guinea and Sierra Leone, found that humanitarian workers extorted "sex in exchange for desperately needed aid supplies (biscuits, soap, medicines, plastic sheeting etc)".
The victims were mainly girls aged 13 to 18, who reported consequences including "pregnancies, abortions, teenage motherhood, [and] exposure to sexually transmitted diseases and HIV/AIDS".
The committee found that a recurring theme was "abuse of power". "No corner of the aid sector appears to be immune," their report said. "The problem is a collective one."
How has the industry reacted?
Oxfam trustees chairwoman Caroline Thomson said the report made for "painful reading" for the whole aid sector, and apologised that Oxfam had failed to protect vulnerable women in Haiti.
She said the charity had tripled funding for safeguarding, established an independent whistleblowing phone line and agreed to publish the details of safeguarding cases twice a year.
Save the Children UK said it was strengthening its internal safeguarding systems and had called for greater government oversight.
Chief executive Kevin Watkins said: "We have made mistakes in our own handling of historical sexual harassment complaints from staff in the UK," adding, "there is a great deal more to do".
International Development Secretary Penny Mordaunt welcomed the report, saying: "Until the sector is fully prepared to address the power imbalance, cultures, and behaviours that allow sexual abuse, exploitation and harassment to happen, we will never stamp it out."
An international summit on the issue is due to take place in October, and Ms Mordaunt has called for the sector to demonstrate the progress they have made by then.
How did the scandal unfold?
More allegations then followed, against Oxfam and other UK charities.
Oxfam has since revealed it has to make £16m of cuts because of reduced funding following the scandal, with thousands stopping their regular donations. Its chief executive Mark Goldring stood down in May. His deputy Penny Lawrence had quit in February.
In a separate story relating to alleged misconduct in the charity sector, Brendan Cox, the husband of murdered Labour MP Jo Cox, had to quit his role at the two charities set up in her memory. He denied assaulting a woman in her 30s at Harvard University in 2015 but admitted "inappropriate" behaviour while working for Save the Children.
And former Ex-Save the Children chief executive Justin Forsyth faced three complaints of inappropriate behaviour against female staff. He said he had "apologised unreservedly" to the workers at the time. He resigned from his post at Unicef, saying he did not want coverage of his past to "damage" the charities.