Prime ministers and their holiday snaps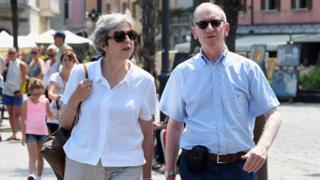 Theresa May is taking a break - holidaying with husband Philip on the shores of Lake Garda in northern Italy.
The prime minister will be glad of an interlude from the row inside the Conservative Party over Brexit.
She's spending about a week in Italy, returning to the UK for some official duties then heading to Switzerland for a walking holiday.
Sound familiar? It's almost a carbon copy of last year's itinerary - right down to the unwelcome headlines about Brexit divisions.
The current occupants of 10 Downing Street are clearly creatures of habit when it comes to their holidays. We're not saying they're stuck for ideas, but here are some other options for prime ministerial vacations:
The prime minister remains in charge even when on holiday - although cabinet ministers deputise for them while they are away.