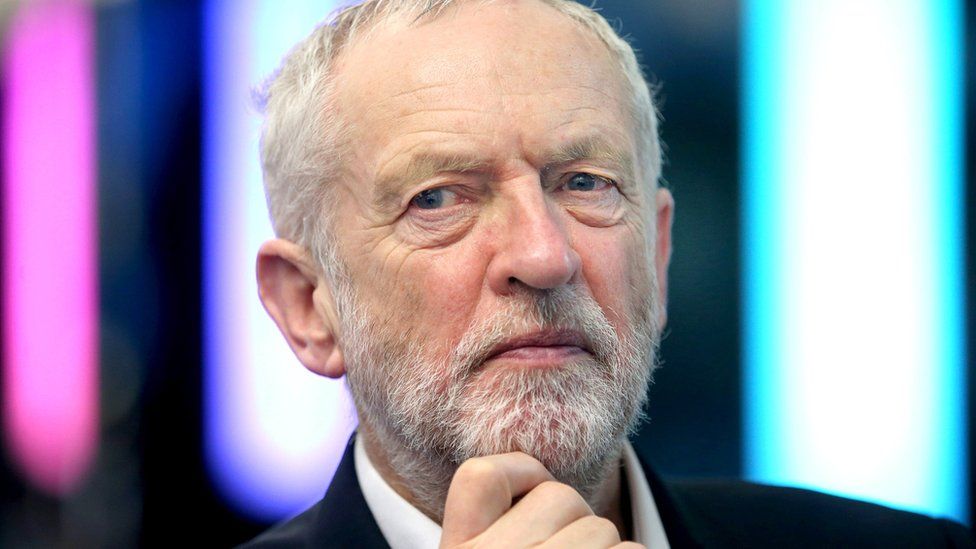 The crunch vote won't take place until after this hot, hot summer.
But Jeremy Corbyn and many of his MPs remain locked in an argument over what a significant chunk of the Labour parliamentary party believes is his toleration of anti-Semitism.
It's astonishing to many of his supporters, who believe it's simply impossible for that to be the case when he has spent so much of his political life fighting prejudice.
But just as strongly, it is impossible for those on the other side to see why he can't understand how the leadership's actions since concerns were first raised about prejudice against Jews fall way short.
As Dame Margaret Hodge, who is now being investigated for venting her deeply held upset and fury to Mr Corbyn, told me - it "beggars belief" that he doesn't understand he is "offending a whole community" by trying to adapt rather than wholly adopt the code that describes anti-Semitism that so many other organisations adhere to fully.
This is emotive, difficult, and important. The very nature of this debate is a clash of understanding. And it has been going on so long the mess has festered and become toxic.
But it is not possible to ignore what is a major political issue for one of our major political parties - a movement that has been built on the battle for equality and equal rights - with, in the last few days, one of its veteran MPs driven to speak out in the way that she has.
The issue at stake is over how Labour defines anti-Semitism. If a member of the party expresses a strong view towards a Jew or the Jewish community, how should Labour decide if that is anti-Semitism, genuine racism, that should attract a punishment? In other words, where is the line?
The most straightforward thing, you might have imagined, would have been for the party to adopt the same rules used by many of the authorities and other political parties, the international definition - you can read about it here.
That is not what Labour has done though. Yes, they have adopted the definition, but they have not included all of the examples that sit alongside the rules and have expanded it in other ways.
For some of Mr Corbyn's supporters, including many with long-held views about Israel and Palestine, it's quite right to give extra provision to protect those who want to criticise Israel's policies without being accused of being anti-Semitic.
For many Labour MPs and the vast majority of Jewish organisations, it is straightforwardly unacceptable that the party is trying to tell Jews what is and is not racist, rather than accepting a widely-agreed definition.
And after a bruising couple of years where Jeremy Corbyn only relatively recently accepted there was a significant problem, some say the leadership appears to be putting the desires of those who want to be able to criticise Israel ahead of the rights of a minority who have been subject to significant abuse.
The view of Dame Margaret Hodge and many others is that if Labour was serious about sending a message that anti-Semitism was truly unacceptable, the way to go about it is not to go ahead with writing their own version of the rules.
Many of Mr Corbyn's supporters claim this is all whipped up by his many detractors on the Labour backbenches. Certainly it is no secret that he has many backbench critics. And yes, many of those who are critical of his handling of anti-Semitism are also people who have been against his leadership.
But read some of the abusive messages directed to Jewish Labour MPs , talk to those who have spoken out and been sent death threats, remember that some cases have even ended up in court, and then ask yourself if any individual would put themselves into that kind of position if this wasn't real.
And while yes, some of Mr Corbyn's allies do believe this has been overblown, if you ask most Labour MPs privately about what's been going on, they are worried, often embarrassed and despondent.
With no vote until September on this issue there's no end in sight for this internal conflict. And that comes with a potential political cost.
As Labour found in the local elections, the ugliness of the row over anti-Semitism did have an impact on the doorstep. With neither main party able to make a definitive leap in the polls, anything that could pull Labour down is a problem.
And to the outside observer what is most surprising is that Labour is still riven by this issue, unable it seems to find a way through.
With the government staggering to the summer, with outward chaos the norm, every hour Jeremy Corbyn's party spends talking about its own problems does nothing to move them closer to Number 10.
The rights and wrongs of Labour's problem will be fiercely debated for many months to come.
But more than two years now since Labour's own first inquiry into the issue, despite many promises, the leadership has been unable to move decisively on.