Sir Vince Cable 'made mistake' in missing Brexit vote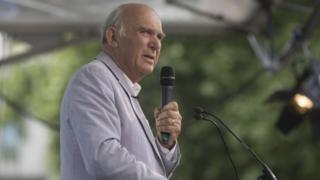 Sir Vince Cable has told the BBC he "made a mistake" by missing a key Brexit vote in the Commons last week.
Neither the Lib Dem leader nor his predecessor Tim Farron was present when the government's Customs Bill scraped through by just three votes.
Sir Vince denied reports he was attending a dinner discussing a new centrist party that night.
"That's not correct," he said. "I was having a confidential private discussion."
He added: "I do talk to people in other parties."
The Sunday Times reported that Sir Vince missed the vote because he was attending a dinner to discuss the prospects for a new anti-Brexit party.
The Lib Dems have been calling for a referendum on the final Brexit deal.
Sir Vince told BBC 5live's Pienaar's Politics: "The immediate preoccupation is to work with people in other parties to stop Brexit, but in the longer term there may well be realignment because of the deep splits in the parties and I want my party to be at the centre of it."
But he said he would "absolutely not" be joining a new party, adding: "I have got a very good party of my own."
'We got the timing wrong'
Of the Customs Bill vote on Monday night, he said: "It was a close vote, it wasn't in itself a big vote but that is not important. We did make a mistake, I made a mistake and won't do that again."
"Party leaders, and indeed many others, spend a lot of time in confidential private conversations and that is what was involved and we got the timing wrong on this occasion."
Mr Farron has also said he had "called it wrong". He was booked to give a talk, Illiberal Truths, about the furore during the last general election over whether or not he believed gay sex was a sin.
Lib Dem chief whip Alistair Carmichael said he had "messed up" by allowing both men to skip the vote he had expected to be "lost by hundreds".
All the party's other MPs - with the exception of Jo Swinson, who is on maternity leave - cast their ballot against the government on amendments to legislation defining the UK's customs arrangements with the EU after it leaves in March 2019.
The amendments, tabled by Eurosceptic Tory MPs, were accepted by ministers - prompting a backlash by pro-European Tories, 14 of whom ended up voting against the government.
With Labour also voting against, the government scraped home in two votes by a margin of three.
Sir Vince said his own absence had been "overshadowed" by "the large scale cheating on pairing arrangements" - a reference to the row over the Tory chief whip's behaviour in another crunch vote the previous night, on the Trade Bill.
Julian Smith is under fire for telling a Tory MP, who was "paired" with Ms Swinson, to take part in the vote - something he has said was done "in error".