NI abortion reform: More than 170 politicians sign letter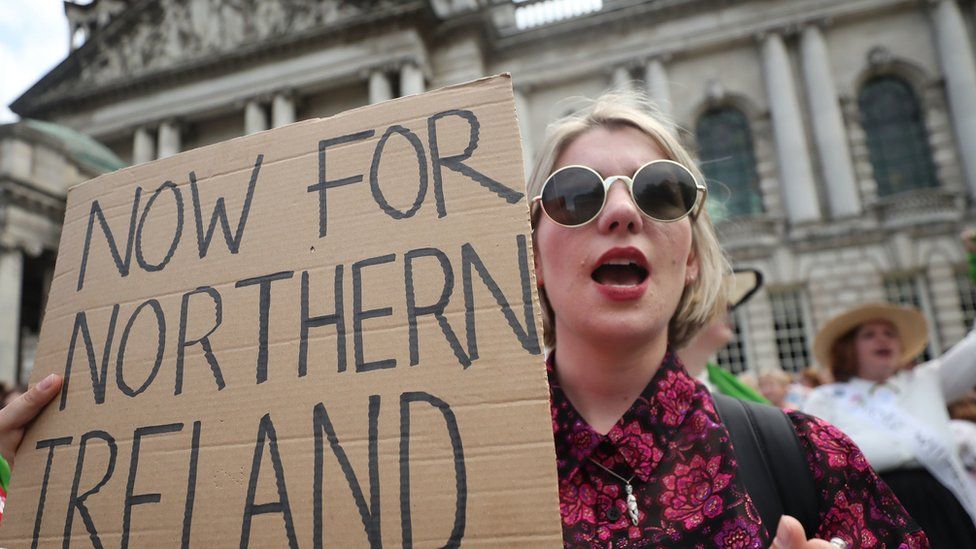 More than 170 politicians from the UK and Ireland have signed a letter urging the UK government to reform Northern Ireland's abortion laws.
It is the only part of the UK where abortion is illegal unless there is a serious risk to a woman's health.
It comes as figures suggest 28 women a week on average go to England from Northern Ireland for an abortion.
The unpublished data, obtained by Labour MP Stella Creasy from the British Pregnancy Advisory Service - a charity which provides abortions, suggests that 342 women made the journey between March and May this year.
Ms Creasy told the BBC's Sunday Politics that she did not want the women of Northern Ireland to be the "collateral damage" of Theresa May needing the DUP to prop up her government.
The prime minister relies on Arlene Foster's DUP party - which oppose changes to the abortion laws in Northern Ireland - for her parliamentary majority.
The DUP's Sammy Wilson told the BBC it would be babies who would become "collateral damage" if changes went ahead.
Unlike other parts of the UK, the 1967 Abortion Act does not extend to Northern Ireland and an abortion is allowed only if a woman's life is at risk or there is a serious or permanent risk to her mental health.
Rape, incest and fatal foetal abnormalities are not circumstances in which an abortion can be performed legally.
The cross-party letter to Prime Minister Theresa May and her Irish counterpart Leo Varadkar was coordinated by Ms Creasy and signed by 173 parliamentarians from across the UK and Ireland.
They include Labour's Harriet Harman and Conservative MP Sarah Wollaston, as well as Sinn Fein leader Mary Lou McDonald and the party's vice-president Michelle O'Neill.
It said the Good Friday Agreement was signed on the understanding that laws would be compliant and called for an "explicit legislative timetable" to be set out to decriminalise abortion in Northern Ireland.
It reads: "This is a critical step towards ending the treatment of women in Northern Ireland as second-class citizens."
Downing Street has so far said that the issue should be dealt with by the Northern Ireland Assembly, once devolution is restored.
The Democratic Unionist Party says it is "pro-life" and has campaigned against any extension of abortion rights in Northern Ireland.
The DUP's Sammy Wilson said abortion law was a decision for the people in Northern Ireland.
However, there has not been an executive at Stormont since the governing parties - the DUP and Sinn Fein - split over a bitter row 18 months ago. This means there are no ministers in place to approve any major decisions.
But Mr Wilson said: "This idea that somehow laws which don't reflect the views of the people of Northern Ireland should be slid under the radar because we don't have an assembly is totally against all of the devolution settlements and certainly against democracy."
Figures from the UK Department of Health show that more than 900 women from Northern Ireland travelled to England for an abortion last year.
The number was an increase of more than 25% on the year before and followed a government announcement that women from Northern Ireland would be able to get free abortions in England.