The celebrities 'banned' from the prime minister's party
By Sanchia Berg
BBC Radio 4 Today programme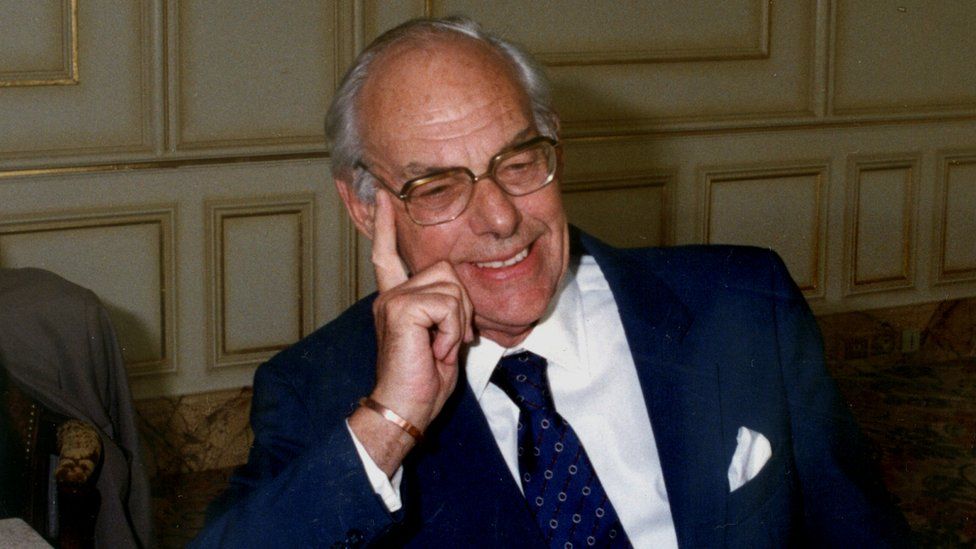 Files just released show how in 1988 Denis Thatcher personally vetted the guest list for a showbiz reception at Number 10, providing an insight into the thoughts of one of the most taciturn of prime ministerial consorts.
On 7 June 1987, just days before the general election, the Conservatives held a rally in Wembley. On the stage with the prime minister were 45 celebrities, rounded up by the entrepreneur and Conservative fundraiser Sir Basil Feldman.
They included some of the biggest names in TV at the time, including Ronnie Corbett, Jimmy Tarbuck, Bob Monkhouse and Shirley Bassey.
Mrs Thatcher won, of course, and a few months later decided to give a party to thank her showbiz supporters. Forty-five guests would not fill up the grand reception rooms at Number 10 Downing Street, so the list, now revealed by the Thatcher Archive, was expanded.
John Whittingdale, then Mrs Thatcher's political secretary, suggested Paul McCartney, Cliff Richard, Freddie Mercury and Mick Jagger as guests.
The first two made the list, drawn up by the ministry for the arts: government ministers were added, as were civil list pensioners and sportsmen and women.
This guest list, which contained 229 names, not including spouses, was copied by Mrs Thatcher's private office to Denis Thatcher, who was to co-host the party.
He wrote back: "Whilst I accept of course that not everyone who comes to our receptions are necessarily on our side I find it both unpleasant and embarrassing to entertain those who publicly insult the PM.
"This list therefore needs some careful checking in this regard."
He went through it with a red pen, ticking "those who I would personally like to see included" and putting a question mark by "those who I believe do NOT help".
He added that more than one tick "means super person and a known friend and wonderful to have them here".
Top of his list was the comic and actor Eric Sykes, who got four ticks by his name. The golfer Peter Alliss got three - Ronnie Corbett got two ticks, as did Penelope Keith, Judith Chalmers, Tim Rice and others.
More intriguing are his question marks. The artists Gilbert and George, described as "image makers", got two.
Single question marks went to Jan Leeming, Paul Daniels and Shirley Bassey, who'd been at the Wembley rally, Paul McCartney and, oddest of all, David Attenborough.
Richard Ingrams, who for many years wrote the Dear Bill letters in Private Eye magazine, purporting to be the private correspondence of Denis Thatcher to a golfing friend, has his own theory about the ticks and crosses.
"One of the few things we know about Denis is that he had a very low opinion of the BBC. He thought that BBC people were all pinkos."
That might explain why Sir David got a question mark - or perhaps Denis mixed up his Attenboroughs. David's brother, the actor and director Richard, was a longstanding Labour supporter.
"It's very unusual to have Denis interfering," Mr Ingrams adds.
"Denis loved his wife and wanted to protect her, and kept out of the limelight himself. He used to say a whale only gets shot if it spouts."
Chris Collins, director of the Margaret Thatcher Foundation and editor of its vast archive website, agrees it was "unusual" for Denis Thatcher to involve himself to this extent.
Mr Thatcher wrote a personal letter of complaint to the BBC's then chairman Marmaduke Hussey, saying that never had "so foul a libel been published against anyone, let alone a prime minister".
Mr Collins adds that: "The special coded system of question marks and ticks and crosses, that's actually slightly unusual.
"Certainly the steam is coming out of his ears at various points in 1988 and this party he jumps on."
The final guest list included only the original 45 names, plus the 1988 British Winter Olympics team - and the parliamentary skiing team.
Eddie "the Eagle" Edwards, whose efforts at that winter's Games had won him admirers around the world, wasn't there: he had a prior charity engagement.
Richard Ingrams never met Denis Thatcher when he was writing Dear Bill, but he did later invite him to a lunch for the Oldie magazine, which Mr Ingrams founded and edited.
After that, he came, as a paying punter, to literary lunches, always sending a handwritten "thank you" card.
"And so that's quite funny, that for this party he comes down hard on people who've written unfavourably about The Boss [Margaret Thatcher], that he chose to fraternise with me! Albeit once her political career was over."
And did they ever talk about the Dear Bill letters?
"No, he never mentioned them. But maybe he thought that was just being polite."
Could Philip May ever play the same role? Richard Ingrams thinks not.
"He's playing the Denis role of keeping his trap shut. We know very little about Philip May. But Mrs May doesn't really measure up to Thatcher."
Members of the public will be able to browse through the archive from Monday 23 July by visiting www.margaretthatcher.org.
Related Internet Links
The BBC is not responsible for the content of external sites.