Upskirting row MP Sir Christopher Chope under fire again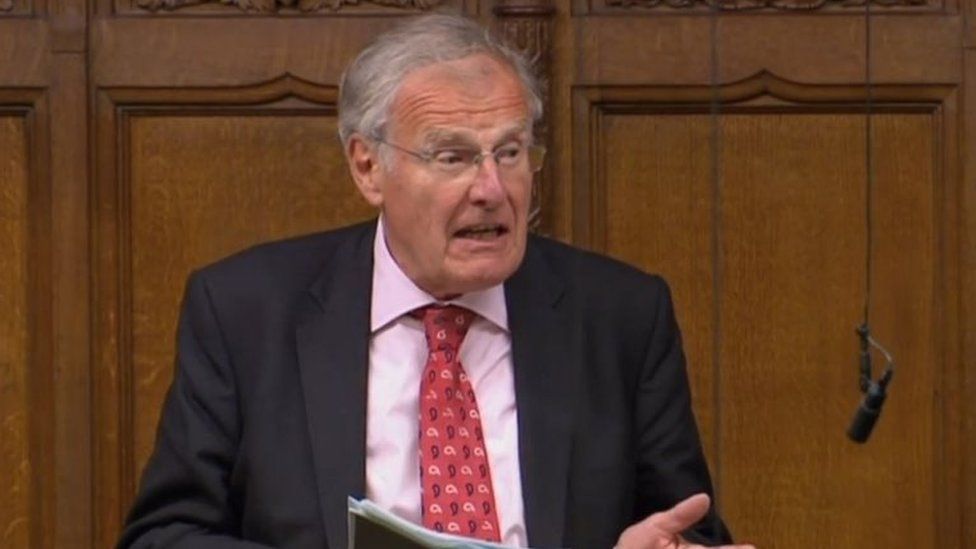 The Conservative MP who attempted to block a ban on upskirting is under fire again - for stopping the Commons being used for a women's conference.
Sir Christopher Chope said he would not be intimidated by "lies" about him being a "misogynist".
He said his sole aim was to prevent badly thought-out legislation.
And he said he had been "vindicated" over his objection to the upskirting bill because the government was now facing calls to make changes to it.
On Monday evening, Sir Christopher blocked a motion by Conservative MP Mims Davies calling for the Commons chamber to be used for a Women MPs of the World Conference on a day in November when MPs were not sitting.
The plan for a Women MPs of the World conference is backed by Commons leader Andrea Leadsom, but she had decided to allow MPs to have the final say on it.
The prime minister's official spokesman said: "The government is supportive of holding the conference and will seek to find time for it to be debated."
Sir Christopher has tabled an amendment to the motion saying that the conference must be for parliamentarians only - and that they must hold a debate while using the chamber.
He told BBC News the Commons chamber was the "fulcrum" of British democracy and should only ever be used by elected parliamentarians.
"Even if you are a member of the House of Lords, you cannot sit on our green benches at any time," Sir Christopher told the BBC.
The one exception to this rule was the Youth Parliament, he added, which is allowed to use the chamber for debates one day a year because its members are elected.
He was criticised by shadow women and equalities minister Dawn Butler who said Theresa May needed to "to call out this sexist behaviour in her own party".
Labour MP Lloyd Russell-Moyle said on Twitter: "Once with upskirting is foolish but twice might lead to accusations of him being a misogynist!"
Sir Christopher said claims of misogyny levelled at him were "all lies" and he would not be deterred from holding the government to account for "lazy" and poorly thought-out laws.
"I have always been keen to ask questions - that is a key part of our democracy," he said.
He said he had been through a "torrid period trying to get to the truth" about the upskirting bill but had now been "fully vindicated" because MPs had tabled a string of amendments to the government's bill over fears it will not be effective.
The government said it would give top priority to creating a new criminal offence of taking a photograph underneath a person's skirt after Sir Christopher blocked a bill by Lib Dem MP Wera Hobhouse.
Maria Miller, chairwoman of the Women and Equalities Committee, last week warned against rushing the Voyeurism (Offences) (No. 2) Bill through parliament because "we could end up with a piece of legislation that is not doing what the government set out for it to do, which is to close a loophole in the law".
"What really concerns me is that perpetrators could easily plead that they were taking images not for sexual gratification, but anonymously for sale to a third party," she told MPs.
"That could actually give perpetrators a very big loophole to climb through."