MPs will not vote on early start to summer recess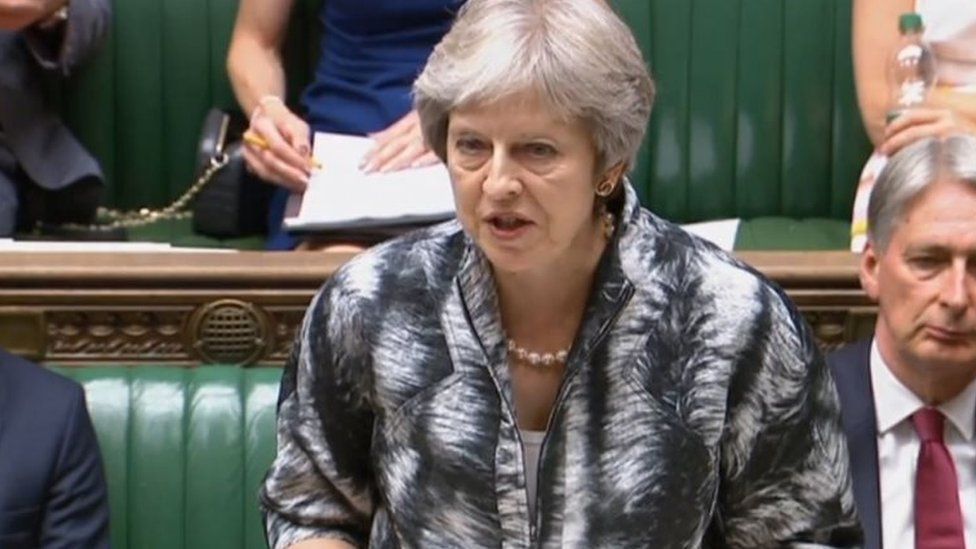 Members of Parliament will not vote on whether to start their summer recess this Thursday, despite the government tabling a motion to do so.
A motion to bring forward the summer break by five days was not moved when called by Speaker John Bercow on Tuesday, meaning no vote will happen.
It had been tabled amid debates on the prime minister's Brexit plans.
Tory MP Nicolas Soames said he was glad the "idiotic proposal" had been dropped.
The government could have been defeated, as a number of Conservative backbenchers were against the motion, as well as Labour and the SNP.
Speaking in the Commons, Mr Bercow said his "strong sense" was that "the status quo applies" and that Parliament would sit next Monday and Tuesday "as had always been the intention".
"We were always expecting to sit until next Tuesday, that's what our electors would have expected," he added.
"The government was perfectly within its rights, though it was pretty unusual suddenly to suggest a change, but the government appears to have thought again about that matter."
Labour's Angela Rayner had called the motion "pathetic", while Labour backbencher David Lammy said it was "a government that has run out of ideas".
The Tory chairman of the Health Select Committee, Sarah Wollaston, said she was opposed to an early recess - adding that her committee would be sitting as usual next Tuesday.
MPs will return to the Commons on 4 September.