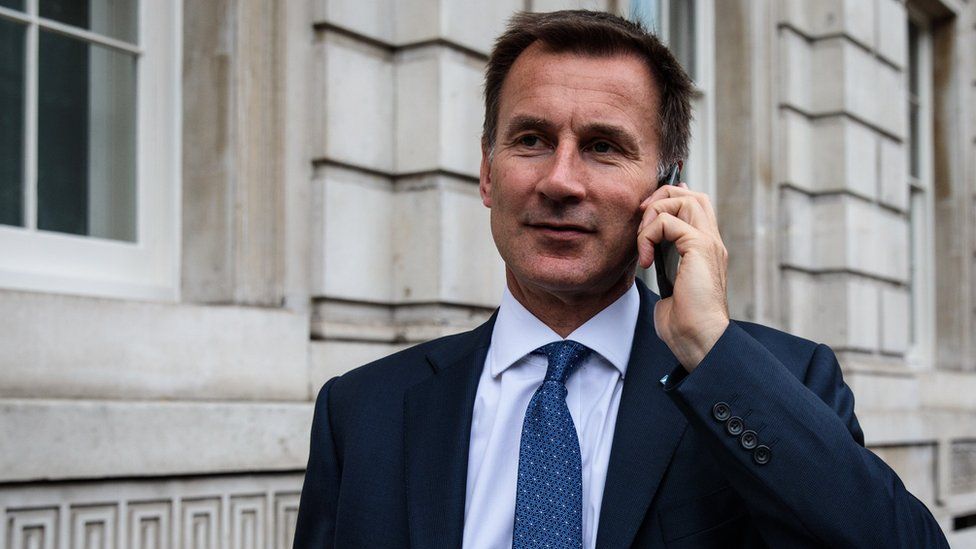 Such is the continuity of the British state that Boris Johnson had hardly left the Foreign Office before his successor, Jeremy Hunt, was being ushered in to meet senior officials and get his feet under the table.
He was even introduced to Palmerston, the office cat named after the former prime minister and statesman who built the grand Foreign Office buildings in King Charles Street that Mr Hunt will now occupy.
In other countries, there are appointment procedures and parliamentary hearings. Here, the prime minister can play musical chairs with her ministers with the brutal stroke of pen and patronage.
Thus is a politician with no known foreign policy experience thrust into the great office of secretary of state for the Foreign and Commonwealth Office. The question now is what will he do with it?
Mr Hunt is by definition inexperienced, so there will be time spent getting up to speed.
When John Major was made foreign secretary by Margaret Thatcher in July 1989, he had the rare luxury of being able to spend the summer reading himself in while on holiday at a colleague's home in Spain.
Of course, he held the job for only a few months but never has a new foreign secretary been so well briefed. It is a privilege that will be denied Mr Hunt.
On Tuesday, he is attending the western Balkans summit in London where Britain is looking to bring stability to the region and show its continued commitment to European security after Brexit - not an easy subject for one's first day in the office.
On Wednesday, Mr Hunt is expected to go to Brussels for the Nato summit where Donald Trump will push for Britain and other European nations to spend more on their defence.
If the president threatens to reduce the US defence commitment in Europe or even refuse to support countries not spending the Nato target of 2% of their national output on defence, how might Mr Hunt think Britain should respond?
Then, on Thursday, the foreign secretary will be part of the team playing host to the US president as he visits Britain. How does Mr Hunt think Britain should respond to Mr Trump's trade tariffs on EU steel and punitive sanctions on British banks trading with Iran?
And then, early next week, Mr Trump will move on to Helsinki to meet President Putin. If the US makes concessions to Moscow, how should Mr Hunt respond so soon after the death of a UK national at the hands of a suspected Russian nerve agent attack?
All that in just the new foreign secretary's first week. Mr Hunt's greatest challenge, though, will be to lift his head above these day-to-day events and crises to look to the horizon.
He will have to craft a longer term strategy for Britain's foreign policy. The government has an approach called "global Britain". But this has long been criticised as a slogan without a policy.
Mr Hunt now has an opportunity to think, to consult, to consider and begin to sketch out a vision of what role Britain should play in the world in five, 10 years' time.
What is the UK's approach to an increasingly independent-minded and less transatlantic United States, to a Europe beset with political instability, and to the rising powers of China and India?
What should Britain's policy be to Syria, Yemen, and North Korea? How should it respond to the growing challenge of migration from sub-Saharan Africa in coming decades?
In his first words in post, Mr Hunt acknowledged the scale of the task before him, talking of the need to project a strong, confident Britain on the international stage.
"This is a time when the world is looking at us as a country wondering what type of country we're going to be in a post-Brexit world," he said.
"And what I want to say to them is that Britain is going to be a dependable ally, a country that stands up for the values that matter to the people of this country and will be a strong and confident voice in the world."
Note that phrase "dependable ally". Some foreign politicians and diplomats struggled to trust Boris Johnson, sometimes not sure when he was speaking for himself or his government.
The former head of the Foreign Office, Lord Ricketts, said: "Jeremy Hunt should make it his priority to give Britain back a respected voice in the world and an influence on at least some of the major issues."
In recent months, the Foreign Office has had some successes: persuading 28 countries to expel more than 150 Russian diplomats after the poisoning of Russian former spy Sergei Skripal and his daughter Yulia Skripal in Salisbury, Wiltshire, and convincing the international community to give weapons inspectors greater powers to say who was responsible for using chemical nerve agents in Syria.
Mr Hunt's task now will be to give his diplomats new leadership, deciding the issues and regions where he thinks that he - and they - can make a difference.
That will require not just choosing priorities but also providing an overarching narrative of what the Foreign Office - and Britain more generally - can and should do in the world.
Unlike his predecessor, Mr Hunt comes to the job with little baggage. He is seen by officials as a clean slate: bright, competent and ambitious.
One said: "He will be a gaffe-free zone." He is also a political survivor, one of only three members of David Cameron's first cabinet that are still around the table.
But perhaps his greatest advantage as foreign secretary is that he is trusted by Prime Minister Theresa May and Number 10.
When it comes to getting the ear of foreign politicians and diplomats, that is a powerful thing to have.
Related Internet Links
The BBC is not responsible for the content of external sites.