How much danger is Theresa May in?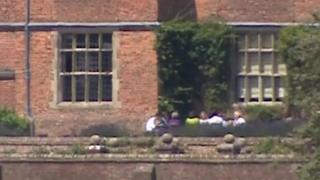 While we wait outside this beautiful house, in this gorgeous sunshine, it seems like hardly anything could go wrong.
We spotted the Cabinet on the terrace of Chequers in an animated conversation. But how much risk does the PM really face tonight?
She has, her supporters always say, been in many tricky spots before, and always been able to go on. Is today any different?
Well it could be, and until much later tonight, we won't know if so. There was momentary excitement here earlier when a taxi arrived looking for 'Alice', but it doesn't appear so far that was a pseudonym for a member of the Cabinet trying to smuggle their way out.
If this was easy, Theresa May would not need the cloistered environment of Chequers to get her cabinet to agree. She would not need the tranquil quiet of the Buckinghamshire countryside to broker peace.
She is vulnerable because her plan is hardly Brexit to some of those who campaigned to leave. Vulnerable in her party because her authority is in short supply and there is intense disagreement. Vulnerable then in Parliament because without a majority, a small faction can wreak havoc on either side.
And vulnerable in the EU because she must negotiate against 27 other countries who show only tiny signs of allowing any chink.
What protects her is a shorter list, but genuine too. None of her warring cabinet wants to be the one who is blamed for risking the government's fortunes. She has many rivals but no obvious successor.
And while in her party, both Eurosceptics and former Remainers can kick up a stink, thus far every time a push has never developed into a brutal shove. But today's uncertainty reinforces the sense that Theresa May is a prime minister almost always inches from the brink.