Brexit: No 10 bids to see off post-Chequers splits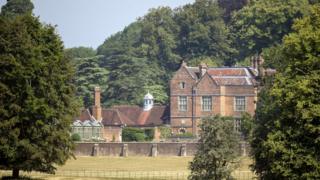 If Theresa May reaches agreement with her cabinet on her approach to Brexit, government ministers will be keen that a new front isn't opened up soon afterwards.
So Conservative MPs have been invited to receive a post-Chequers briefing from the chief whip in Downing Street on Saturday.
That would allow him to "sell" any deal and assess the level of discontent.
I've spoken to a few potential attendees, including a veteran Leave campaigner who said he will definitely go along to try to decipher a potentially complicated message.
But for one reason or another, many leading and long-standing Brexiteers haven't been rushing to take up the invitation.
Some are keen to stress they have other commitments - and are not delivering a snub.
Others have no such qualms.
One said he would rather hear what his activists have to say, than what he described as "Downing Street spin".
Another said it would be a pointless exercise - as Brussels would reject whatever is agreed so there was no point immersing themselves in the detail.
But for others, it's the detail that's important.
They are not wholly against, for example, a common rule book governing trade in goods with the EU but they do want to know how easy it would be to diverge from that rule book subsequently.
And whether the consequences would be so great that it wouldn't be a realistic option in practice.
Nonetheless, they don't think they will get that detail from a briefing so they are not turning up.
Instead, some leading Brexiteers are pressing for whatever is agreed at Chequers to be given to them to peruse in detail, and at leisure - or better still, for any document to be published.
'Hang fire'
Downing Street are, I'm told, resistant to publishing anything before the Brexit White Paper next Thursday.
But some Brexiteers want to see the detail before the prime minister addresses her MPs behind closed doors at Westminster on Monday.
And just about everyone sees that meeting, at the start of the week, as far more crucial than a weekend briefing from the chief whip.
As one put it: "We will hang fire until we hear from the PM herself."
And frankly, if any MP didn't like what was said at the Saturday briefing, who would want to kick off just before the football?
That is, unless a minister takes the very long walk out of Chequers very late on Friday - and then the best laid plans may well go awry.