Councils to be reimbursed after courts fee 'error'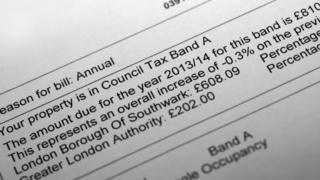 English local authorities are due a refund totalling millions of pounds after being overcharged for taking legal action over unpaid council tax.
The Ministry of Justice said court fees for council tax summons had been set too high since 2013-4 following an "administrative error".
Councils had overpaid by about £9m a year since then, it said, and were entitled to be compensated in full.
Officials said urgent action was due to cut fees to their correct level.
Local authorities have to obtain Council Tax Liability Orders if they want to take legal action to recover unpaid tax from residents.
Councils issued about 3.5 million summons for council tax arrears last year. Campaigners say this figure has risen sharply in recent years following the abolition of council tax benefit in 2013 and responsibility for providing support to people on low incomes passing to cash-strapped local authorities.
Following a review of its fees system, the Ministry of Justice said it had discovered it had "inadvertently" over-charged £2.50 for each application over several years - a figure in excess of the legal costs involved in recovery.
Details of how councils will be reimbursed will be outlined soon.
'Small number'
The department would not comment on how large the final bill would be but said it would cost Her Majesty's Courts and Tribunal Service £9m in revenue in the current financial year.
"Following a thorough review of fees across our courts and tribunals, we have identified a small number that have been charged incorrectly," a spokesman said.
"We are taking urgent action to reduce those fees to their correct level and will set out details of a refund scheme as soon as possible."
It said the incorrect figures represented a "fraction" of the 300 separate fees charged for civil and family proceedings in magistrates and other courts in England.
Total legal and other administration costs relating to council tax arrears totalled £292m in 2016-7, up £10m on the previous year.
Council tax evasion and fraud costs the exchequer millions every year but campaigners have long urged a review of penalties for offenders and greater regulation of the use of bailiffs and other debt recovery firms.
More than 4,800 people were taken to court and threatened with prison for not paying a council tax debt in 2016-17, the BBC reported last November, a rise of 11% on 2013.
At least 62 people were imprisoned in England and Wales for council tax offences in 2016-17.