MPs 'being advised to quit Twitter' to avoid online abuse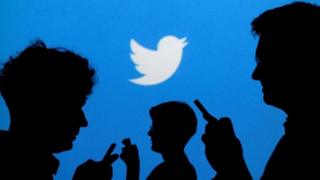 MPs are being encouraged to leave Twitter because of the levels of abuse they are getting, it has been claimed.
Conservative MP Nadine Dorries said colleagues were being advised to "close down" their accounts by Parliament's Health and Wellbeing Service.
The service, which offers counselling to MPs and a 24/7 helpline, said any guidance it gave was confidential.
Tory MP Andrew Percy told the BBC that leaving Twitter in 2016 was "the best thing he has ever done".
The MP for Brigg and Goole said it had not harmed his ability to do his job, either as a minister or in terms of representing his constituents.
Nearly 600 of the UK's 650 MPs have a Twitter account, which they use to promote their work in their constituencies, show their support for local causes and engage in debate on national political issues.
But MPs have been warning for several years that the level of abuse they receive has got out of control, with female MPs in particular being targeted and threats of violence becoming common.
Ms Dorries' confirmation of the advice being given to MPs was in response to The Spectator's Isabel Hardman's report.
Mr Percy has spoken publicly in the past about the abuse he and his family received during the 2015 election campaign, when he was defending his Brigg and Goole seat spanning north Lincolnshire and east Yorkshire.
He said he finally made the decision to do something when a friend saw how "irritated and angsty" he became looking at Twitter on Friday nights and Saturday mornings.
He said he had absolutely no regrets about the move, saying he "could not imagine" the amount of vilification he would have got if he was still on Twitter during last year's election.
"I think Twitter is brilliant but it is not just a good space for MPs," he said.
"I always say to colleagues, leave Twitter. I have not lost anything by leaving. I don't think it it a tough call. It is the best thing I have ever done in for my own mental health and as a human being.
"I don't think it is giving in. It is just taking back control. I feel I have got my life back."
At the time, he estimated just 10% of his 3,000 followers were constituents of his - and a large number were simply trolls. "You can mute or silence someone but what they say remains up there and people respond to it."
He said he had come under pressure from officials to have his own departmental Twitter account when he was appointed Northern Powerhouse minister in June 2016 but he had "just refused".
He believes other social media platforms are more "representative" of public opinion and therefore more useful in terms of keeping in touch with constituents and dealing with daily casework.
The Commons authorities said the details of advice given to MPs about social media had to remain private.
"The Parliamentary Health and Wellbeing Service deals with a range of enquiries from members," it said. "However we cannot comment on specific advice given, which remains confidential."
Since 2014, MPs have been able to call on help with personal and professional issues including health and well-being information, financial issues, employment law, stress at home or work and relationship matters.