Unite will aim to force election over Brexit deal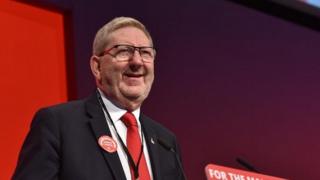 The Unite union has said it will try force an early general election later this year if it does not like the government's Brexit deal.
In a motion backed by delegates, Unite also says it remains "open to the possibility" of another EU referendum "depending on political circumstances".
Campaigners for a referendum on the Brexit deal are hoping to pressure Unite - Labour's biggest backer - into supporting a referendum on the deal.
Labour and Tories do not back the idea.
The motion backed at the policy conference in Brighton states that it is unlikely the deal struck between the UK and the EU will satisfy Unite and the Labour Party's criteria.
"Our priority will be to force an early general election which can lead to the election of a Labour government which would, among other things, reach a better deal with the European Union and improved relations with Europe all round."
It adds: "We are also open to the possibility of a popular vote being held on any deal, depending on political circumstances.
"Within these principles, the executive council has authority to respond as it thinks best to a fast-changing political situation."
The union's leader Len McCluskey said Unite was not calling for a second referendum but, like the Labour Party, remained open to the possibility of a vote on any deal the Tories come back with.
Mr Corbyn has rejected calls for another referendum, saying the result of the 2016 vote should be respected.
During a lengthy debate on Brexit, some delegates called for a second referendum on the UK's membership of the European Union, arguing that after a union deal was negotiated, it was always put to members.
But one delegate said such an idea was an "insult to voters' intelligence" and that the campaign would be used by "remoaner" Labour MPs to undermine Mr Corbyn's leadership.
In his speech, Mr McCluskey said Theresa May was being "held prisoner by the dogmatists and fantasists of the far right".
"These people see in Brexit the chance to turn Britain into the low-wage, deregulated, race-to-the-bottom society of their dreams.
"But Brexit is turning into a nightmare for the rest of us - a nightmare of uncertainty above all."
He added: "Our movement needs to speak with a single voice in opposition to the Tory cliff-edge Brexit in support of jobs, workers' rights and equality for all, removing the concerns that many of our members have, and in also offering hope to those who backed Brexit out of despair."