Can May persuade EU to relax its red lines?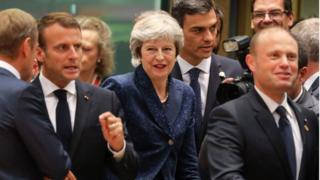 Brussels is hot and sticky. Brexit is not the main event.
And the prime minister does not have an enormous amount that is new to say until she has cracked her cabinet's heads together next week, after which, Number 10 promises that they'll give out a lot more detail.
But it feels like a familiar and frustrating routine on all sides.
Eight times Theresa May has arrived at a Brussels summit as prime minister.
And it feels like, on each occasion, her counterparts have urged her to provide proper detail of what she wants life outside the EU to be like.
It's a broken record and its scratches give everyone earache.
But this was the summit by which the deal was more or less meant to be done.
The political agreement is scheduled to be done in October, and the UK - by its own admission - is still discussing different options.
With only four months left to untangle 40 years of cooperation, the frustration around the continent is more obvious than ever.
The Irish leader Leo Varadkar even suggested to the BBC that the UK still refuses to understand the fundamentals - that departure has to mean fewer benefits for Britain.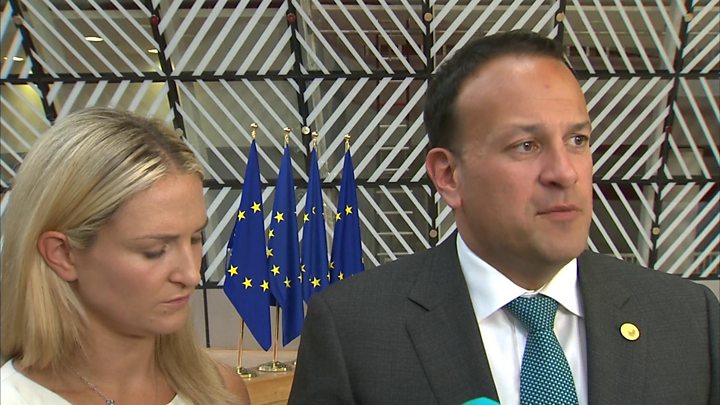 He told me that the UK government still has to grasp the "basics" that it would "not be a relationship of equals".
Theresa May of course acknowledges that the partnership will be different but, politically, she is a million miles away from being able to agree with such a statement, even if she were willing.
Instead the UK is eager for the EU to become more flexible. To move away from what the government regards as a rigid approach from the EU Commission.
At dinner on Thursday night there's a chance for her to persuade the other leaders to loosen that approach.
Only they can tell their negotiators to ease up on their red lines.
In return for that request, she'll promise tonight that the UK will be able to agree on its blueprint for the future relationship between the UK and EU, at a meeting of her cabinet next week.
With almost daily skirmishes at home - that could prove optimistic.
The UK feels lonely and frustrated here today. The migration crisis dominates the agenda, Brexit feels an annoyance, not a priority.
But unblocking the process here, means cooling the Tory wars at home.
European Commission President Jean-Claude Juncker told me that the EU could not go on dealing with a split cabinet.
To make progress here, the prime minister needs first to make a deal at home.
By anyone's definition, this is not a fun summit for the UK.