May in Brussels: Familiar route, low expectations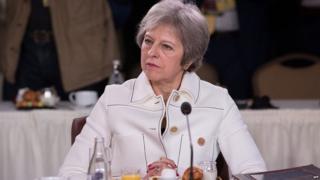 The routine is familiar, the expectations low.
There is no expectation that the prime minister will arrive in Brussels with a magic key to unlock the Brexit process.
But Theresa May heads to the Belgian capital later with a promise at least that within 10 days she will have been able to persuade her cabinet to agree more of the UK's vision for life outside the EU.
And that she will be able to put a detailed and ambitious vision into words in a White Paper to be published not long after - the UK's blueprint of how trade, customs, agriculture, and so many other areas might work after Brexit.
That, she hopes, in mid-July will usher in a genuine discussion about the long-term relationship between the country and the rest of the continent.
This summit therefore is not about technical negotiations, but about promises and persuasion, for the prime minister to convey that she is in charge of her agenda. Difficult - when public cabinet skirmishes are increasingly the norm, and because Brexit is rather a sideshow at this leaders' get-together.
The EU will warn that her plans must be realistic - sources suggest that Mrs May is yet to own up fully to the logic that by choosing to leave, the UK can never have a deal that offers as much as the status quo.
So what? You might wonder, we have been here many times before. Mrs May en route to Brussels. The European Union demanding Britain give more details of its approach.
The prime minister arriving without a huge deal that's new to offer. Sources suggesting that the negotiating teams have been talking at, rather than to, each other constructively, the process frustrated until their political masters are willing to change the game.
But remember time is not just short, it is running out.
This is the last summit before the meeting of EU leaders that is scheduled to sign off the final deal. With the summer break almost upon us, that means there are precious few full working weeks to get this done.
Of course, as we've discussed many times, political deals are often done at the very last moment. But this is unparalleled in recent time in its complexity and complications.
The government has certainly never wanted to leave this until the last minute, but the fundamental disagreements in the cabinet have made it so hard to get even this far.