Sir Jeremy Heywood to take break for cancer treatment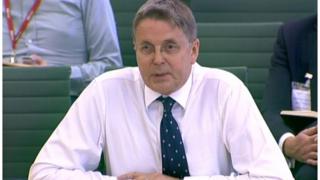 The UK's top civil servant, Sir Jeremy Heywood, is to take a leave of absence over the summer to receive further treatment for cancer.
Sir Jeremy, who has been cabinet secretary since 2011, will step aside until early September.
His duties will be assumed on a temporary basis by the UK's national security adviser, Sir Mark Sedwill.
Sir Jeremy was initially diagnosed last summer and continued to work while undergoing treatment afterwards.
As cabinet secretary and head of the civil service, Sir Jeremy is Prime Minister Theresa May's principal adviser.
A Cabinet Office spokesman said: "Jeremy Heywood announced today that with the support of the prime minister he will be taking a leave of absence from his current role to have further treatment for the cancer diagnosed last summer and for a related infection.
"The prime minister has asked Sir Mark Sedwill, national security adviser, to assume Sir Jeremy's formal responsibilities as cabinet secretary through to September.
"John Manzoni, chief executive of the civil service, will lead on issues relating to the management of the civil service until Sir Jeremy returns in September."