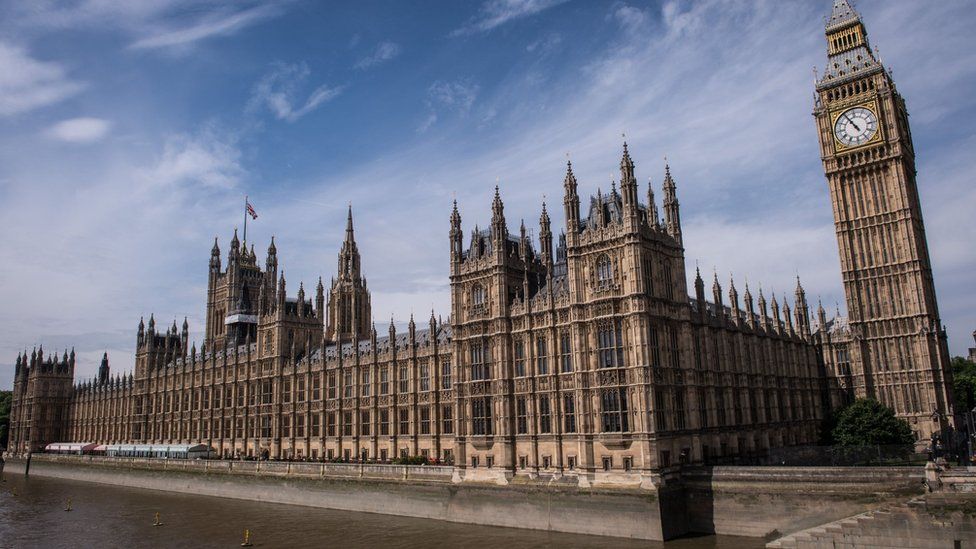 The House of Commons spent £2.4m on "gagging clauses" for former staff since 2013, BBC Newsnight has learned.
Fifty-three departing members of the House of Commons Service signed contracts compelling them not to reveal information about the Commons.
So-called "non-disclosure agreements" (NDAs) can be used to silence victims of bullying or harassment.
A House spokesman said the clauses were used "to resolve employment disputes under certain circumstances".
Newsnight uncovered the information via a Freedom of Information Act request, which was made as part of its investigation into bullying and harassment by MPs of members of the House of Commons Service - the apolitical employees who run the Commons and its committees. These people are usually referred to in Westminster as "clerks".
Newsnight has previously reported that Angus Sinclair, formerly the Speaker's secretary, was paid £86,000 - more than a year of pay - as part of a settlement that entailed him signing a non-disclosure agreement. He felt he was being paid off to stay quiet about being bullied by the Speaker of the House of Commons (an allegation that the Speaker denies).
The answer to the request reveals that £2.4m was spent on 53 settlements including gagging clauses with departing staff members since 2013. (The Press Association has, by the same means, got the same information which they are publishing independently.) The average settlement cost £45,418.
Jill Rutter of the Institute for Government, said: "The public sector should not be allowed to waste taxpayers' money on NDAs". She said it was "impossible to justify as [value for money]".
These figures are a slight underestimate. There may also be some other cases in 2012 and 2018, but the numbers involved are small enough that they fear publishing them would allow people to figure out information about identifiable individuals.
The House of Commons reply to Newsnight clarifies that the NDAs were "settlement agreements (formerly known as compromise agreements) which include a confidentiality clause". It is unclear how many of these contracts were signed, as Mr Sinclair believes was the case for him, in order to prevent information about bullying or harassment leaking out.
Newsnight has established, however, that confidentiality clauses were not standard in House of Commons exit deals: the annual report for the financial year 2016-17 shows 43 people left the House on "exit packages", but only 23 were given NDAs in all of 2016 and 2017. We also know that people, known to Newsnight, who had made complaints about sexual harassment or bullying at the House were asked to sign NDAs when they left with an exit deal.
Some other NDAs, however, were really a means of getting rid of a staff member more easily. Getting them to sign a non-disclosure agreement could be used as a justification for a bigger pay-off. Gagging clauses are sometimes suggested by unions to get more money out of employers for a departing member of staff. So while some of these NDAs may have been intended to keep the culture under wraps, it is not clear how many that applies to.
The House of Commons, however, is now likely to face questions about its use of NDAs. The House of Commons does not have trade secrets, for example, that might justify the use of gagging clauses. Maria Miller, chair of the women and equalities committee, which is researching the use of NDAs, said: "There needs to be more transparency on why payments such as this are being made in the first place."
You can watch Newsnight weekdays at 22:30 on BBC Two.