Upskirting ban 'also protects men in kilts'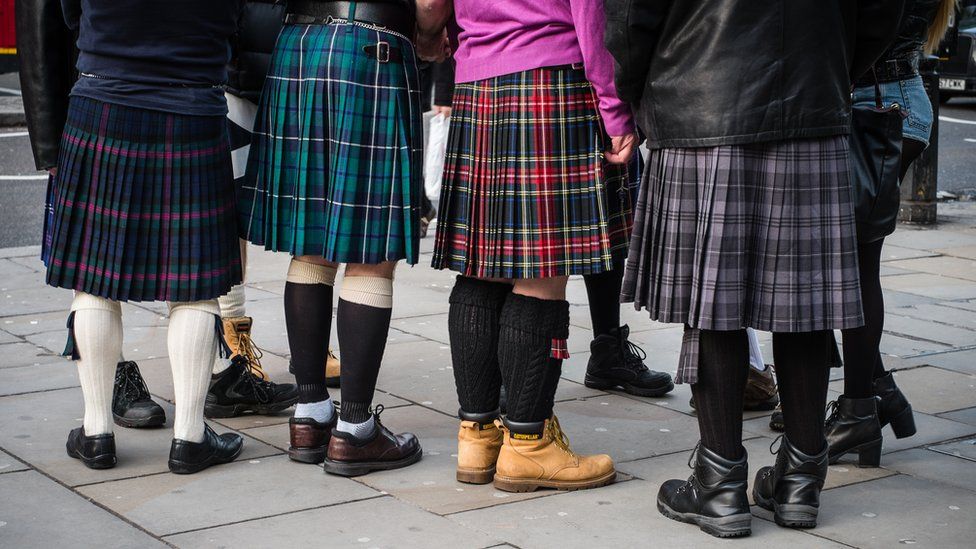 Men wearing kilts will be protected from a new ban on "upskirting" in England and Wales, a government spokeswoman has said.
Baroness Vere of Norbiton said the proposed law would protect the "bodily dignity" of both men and women.
She told the Lords this would include "kilt upskirting", as she briefed them about the government's plans.
The government announced it was intervening after a backbench MP blocked an attempt to change the law.
If passed, its new law would see someone who has secretly taken a photo under a victim's clothing face up to two years in prison.
A bill will be introduced in the House of Commons on Thursday, with the government promising it will make progress before the summer recess begins.
In the House of Lords, Labour's shadow attorney general Baroness Chakrabarti welcomed the proposed new law.
"Our feminism is to be judged by deeds not words," she said.
"Not only statues but statutes protecting all women's bodily integrity and dignity."
In response, government spokeswoman Baroness Vere said: "This statute actually protects all men and women and their bodily dignities, as it does indeed include kilt upskirting, which I only recently became aware of."
In Scotland, a ban - which refers to operating equipment under people's clothing - has been in place since 2009.
Conservative backbench MP Sir Christopher Chope faced a backlash on Friday when he shouted "object" to a backbench bill that would have introduced a specific upskirting offence in England and Wales, which campaigners say is needed to fill a gap in the current law.
He said his actions had been "cruelly misunderstood", saying he recognised the seriousness of the offence and that his objection was over the practice of approving a new law without any real debate - as he suggested could have happened on Friday.