Labour Brexit donor John Mills broke TV influence rules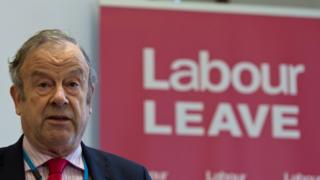 Home shopping magnate John Mills has been rebuked by regulators Ofcom for breaking laws designed to prevent political influence over television.
Mr Mills donated £1.65m to Labour under Ed Miliband's leadership and also set up a number of pro-Brexit campaign groups including Labour Leave.
The JML Direct founder was threatened with having his broadcasting licence removed by Ofcom over rule breaches.
People who run political organisations are banned from owning TV stations.
Ofcom ruled that Mr Mills had been in breach of the rules since 2013 and gave him two weeks to cut his ties to his political campaigns, which also include Business for Brexit and Labour Future, a pro-Brexit campaign aimed at making Labour more "electable".
A spokesman for North London-based JML told The Times it was "disappointed" with the ruling, as it related to Mr Mills' "personal affiliations" rather than those of the business itself.
But the spokesman said Mr Mills had now given his controlling interest in the company's TV channel to someone else.